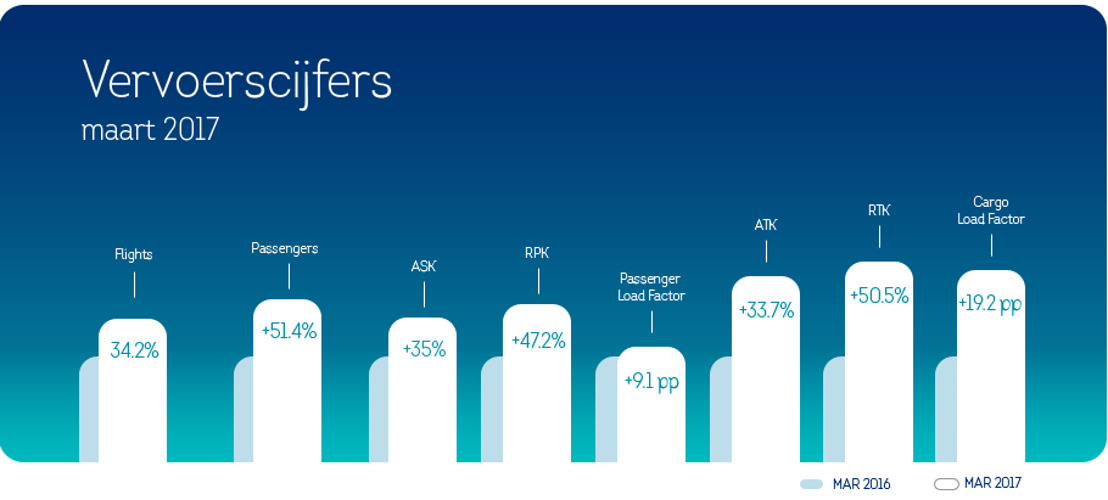 686.299 passagiers kozen voor Brussels Airlines in maart
Dinsdag 11 april 2017 — Tijdens de voorbije maand maart vlogen er 686.299 passagiers met Brussels Airlines. De bezettingsgraad van de vluchten bedroeg gemiddeld 74, 8 procent. De passagiersgroei bedroeg 51, 4 pct. maar die spectaculaire groei is grotendeels te wijten aan het feit dat in maart vorig jaar het Brussels Airlines vluchtprogramma sterk gereduceerd was door de aanslagen van 22 maart 2016.
Van de 686.299 passagiers die met Brussels Airlines reisden tijdens de maand maart kozen er 572.905 voor een intra-Europese vlucht. 113.394 passagiers vlogen naar Afrika, Noord-Amerika, Israël of India.
De cijfers van de maand maart vergelijken met die van maart 2016 is moeilijk. Op 22 maart vorig jaar werd Brussels Airport immers getroffen door terreuraanslagen die tot gevolg hadden dat de luchthaven voor de rest van de maand gesloten bleef. Het Brussels Airlines vluchtprogramma, dat deels vanuit andere luchthavens werd verzorgd, was hierdoor sterk gereduceerd en dat beïnvloedde uiteraard in belangrijke mate de verkeerscijfers van maart 2016. Zo werden er in maart 2016 34, 2 pct. minder vluchten uitgevoerd dan in maart 2017.
De maand maart werd afgesloten met de lancering van Mumbai. Sinds 30 maart vliegt Brussels Airlines vijf keer per week tussen Brussels Airport en de Indische Metropool. De nieuwe verbinding startte met zeer bevredigende passagiersresultaten.
De bezettingsgraad van de vluchten steeg met 9.1 procent punten en bedroeg 74.8 %.
Ook het cargovolume en de cargobezettingsgraad namen toe.
In deze statistieken zijn de passagiers die Brussels Airlines verwelkomde aan boord van de vele chartervluchten of speciale ad hoc vluchten die in maart werden uitgevoerd niet inbegrepen.
| | | | |
| --- | --- | --- | --- |
| | Month | Month | VLY difference in % |
| | March 2017 | March 2016 | |
| Flights | 6,650 | 4,955 | 34.2 % |
| Total Passengers | 686,299 | 453,447 | 51.4 % |
| -- Passengers Europe | 572,905 | 374,775 | 52.9 % |
| -- Passengers Africa | 77,416 | 60,443 | 28.1 % |
| -- Passengers North America | 19,368 | 8,391 | 130.8 % |
| -- Passengers Middle East | 15,881 | 9,848 | 61.3 % |
| -- Passengers Asia | 729 | / | / |
| Available seat-kilometers (ASK) | 1,423,890,745 | 1,054,564,363 | 35.0% |
| Revenue Passenger-Kilometers (RPK) | 1,064,760,834 | 723,120,373 | 47.2% |
| Passenger Load Factor (%) | 74.8 % | 68.6 % | 9.1 pp. |
| Available Ton-Kilometers (ATK) | 168,453 | 126,024 | 33.7 % |
| Revenue Ton-Kilometers (RTK) | 123,253 | 81,916 | 50.5 % |
| Cargo Load Factor (%) | 67.0 % | 47.8 % | 19.2 pp. |
Deze cijfers zijn gebaseerd op de passagiersdata die momenteel beschikbaar zijn
Contacteer ons
Kim Daenen
Brussels Airlines
Wencke Lemmes
Brussels Airlines
Wencke Lemmes
Brussels Airlines
Geert Sciot
Brussels Airlines