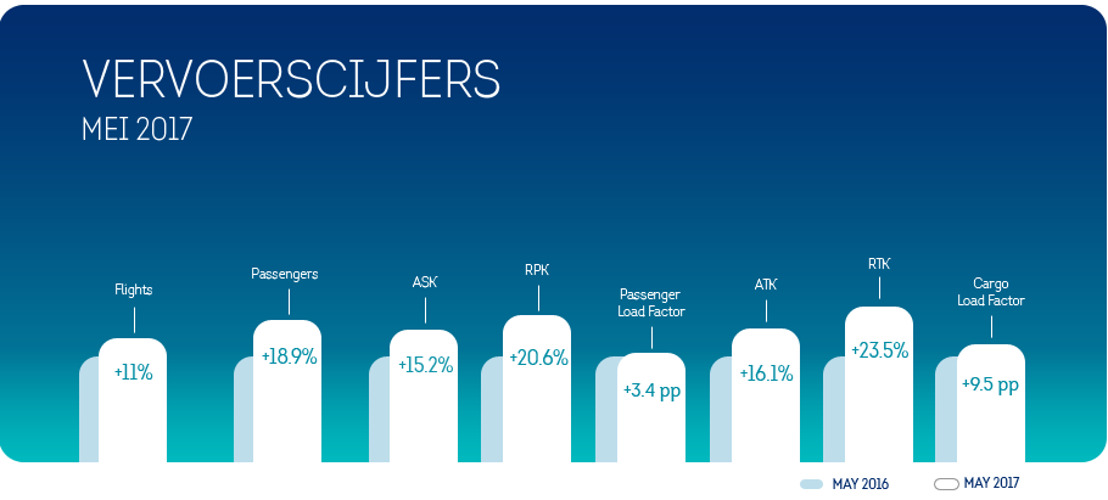 Brussels Airlines groeit sterk in mei
Maandag 12 juni 2017 — Tijdens de voorbije maand mei noteerde Brussels Airlines een passagiersgroei van 18,9 %. De bezettingsraad nam met 3,4 % toe en ook de getransporteerde cargovolumes stegen gevoelig.
Vorige maand vlogen 839.320 passagiers met Brussels Airlines. Dat zijn er 133.572 of ruim 18,9% meer dan in mei 2016. In mei vorig jaar werd Brussels Airlines nog geconfronteerd met de nasleep van de aanslagen van 22 maart die toen een negatieve impact had op het passagiersvolume. Toch is dat niet de enige verklaring voor de sterke groei die dit jaar in mei werd geregistreed. Ook het succes van de commerciële strategie van Brussels Airlines droeg vorige maand bij tot een stevige passagierstoename.
Naast het Europese netwerk deden ook de vluchten naar en vanuit Afrika het goed. Ook de nieuwe route naar Mumbai presteerde zeer behoorlijk. Het gevolg was dat de algemene bezettingsgraad met 3,4% steeg en 76,5% bedroeg.
In de maand mei opende Brussels Airlines opnieuw enkele bestemmingen die enkel in de lente- en zomermaanden worden aangevlogen. Zo doken Ibiza, Jerez de la Frontera, Olbia, Rhodos, Figari en Calvi opnieuw in het vluchtaanbod op.
Ook voor de cargo-activiteit was mei een sterke maand. Brussels Airlines Cargo zag de cargo bezettingsgraad met 9,5% stijgen. Het cargovolume uitgedrukt in Revenu Ton Kilometres groeide met 23,5%.
In deze statistieken zijn de passagiers die Brussels Airlines verwelkomde aan boord van de vele chartervluchten of speciale ad hoc vluchten die in mei werden uitgevoerd niet inbegrepen.
Month

Month

VLY difference in %

May17

May16

Flights

7,701

6,936

11.0%

Total Passengers

839,320

705,748

18.9%

-- Passengers Europe

700,876

589,702

18.9%

-- Passengers Africa

78,306

68,637

14.1%

-- Passengers North America

33,049

31,076

6.3%

-- Passengers Middle East

17,908

16,333

9.6%

-- Passengers Asia

9,181

/

/

Available seat-kilometers (ASK)

1,812,135,939

1,573,189,387

15.2%

Revenue Passenger-Kilometers (RPK)

1,386,237,524

1,149,626,412

20.6%

Passenger Load Factor (%)

76.5%

73.1%

3.4%pt

Available Ton-Kilometers (ATK)

216,130

186,148

16.1%

Revenue Ton-Kilometers (RTK)

162,034

131,160

23.5%

Cargo Load Factor (%)

65.4%

55.9%

9.5%pt

Deze cijfers zijn gebaseerd op de passagiersdata die momenteel beschikbaar zijn
Kim Daenen
Brussels Airlines
Wencke Lemmes
Brussels Airlines
Wencke Lemmes
Brussels Airlines
Maaike Andries
Brussels Airlines