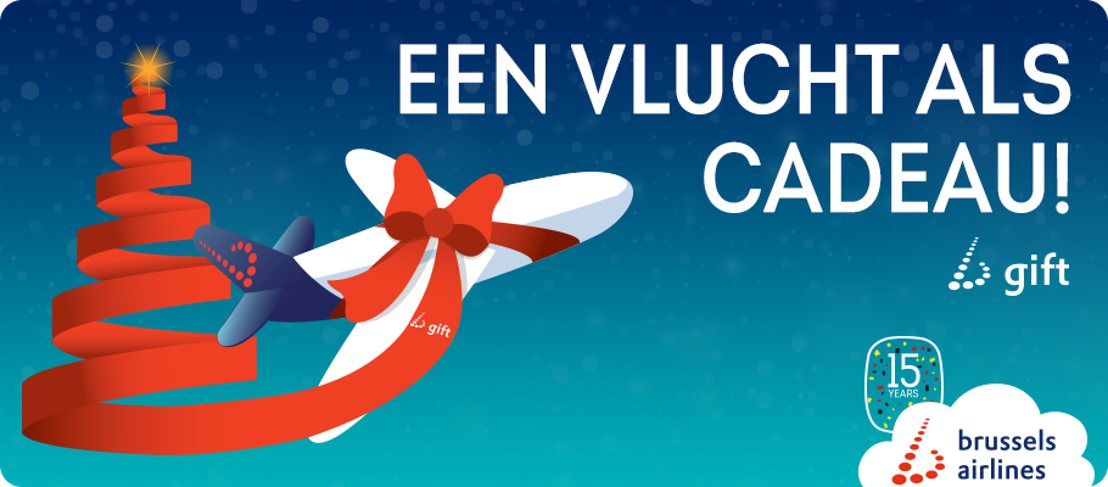 Brussels Airlines legt vluchten onder de kerstboom
Dinsdag 21 november 2017 — Het is weer die tijd van het jaar. Brussels Airlines lanceert b.gift, de reisvoucher voor onder de kerstboom. Nieuw dit jaar is dat de geliefde voucher nu ook bestaat voor verre bestemmingen.
Brussels Airlines lanceert haar populaire reisvoucher voor de eindejaarperiode: b.gift, de cadeaubon die kan ingeruild worden voor een Brussels Airlines vlucht voor één tot vijf personen. Een heel speciaal kerstgeschenk, aangezien het een open vluchtticket biedt waarmee de ontvanger zijn of haar favoriete bestemming zelf kan kiezen uit niet minder dan 83 bestemmingen wereldwijd. Maar er is ook een voordeel voor degene die de b.gift schenkt, want die verdient LOOPS voor elke voucher die hij of zij aankoopt.
Als antwoord op de toenemende vraag naar meer keuze, biedt b.gift voor de eerste keer drie verschillende formules aan. Met b.gift City kan de ontvanger kiezen uit 37 steden in Europa, waaronder Barcelona, Berlijn, Kopenhagen, Lissabon en Praag. b.gift Sunny biedt de keuze uit 42 winterzonbestemmingen zoals Ibiza, Tenerife, Mallorca, Marrakech, Gran Canaria en verschillende Griekse eilanden. Tenslotte laat b.gift World de fantastische steden New York, Toronto, Washington D.C. en Mumbai ontdekken.
b.gift is beschikbaar tot en met 1 januari op brusselsairlines.com en kost €99 (City) of 198€ (Sunny, beide geldig voor een retourvlucht in Light&Relax (23kg bagage en 12kg handbagage inbegrepen). B.gift World, waarmee je naar een langeafstandsbestemming kan vliegen in Economy Class, is beschikbaar voor €396. Wie een b.Gift ontvangt kan deze vanaf 3 januari tot 28 februari inruilen voor een vlucht tussen 15 januari en 15 juni 2018.
Kim Daenen
Brussels Airlines
Wencke Lemmes
Brussels Airlines
Wencke Lemmes
Brussels Airlines
Maaike Andries
Brussels Airlines