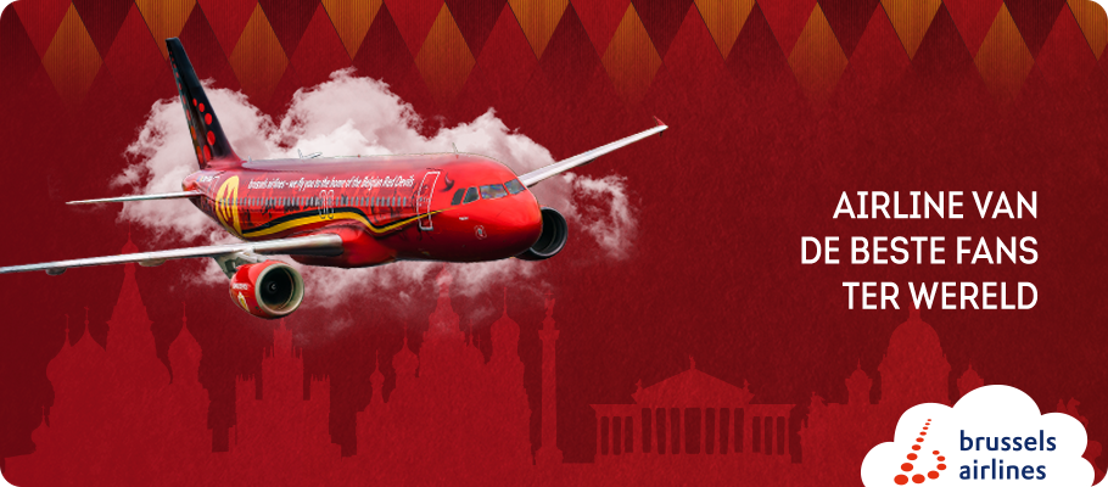 Brussels Airlines organiseert fan flight naar Rusland voor de achtste finales van het WK
Na de overwinning van de Rode Duivels tegen Tunesië, is het Belgische nationale elftal zeker van een plaats in de achtste finale van het WK. Als nationale luchtvaartmaatschappij organiseert Brussels Airlines opnieuw een fan flight om 280 Belgische fans van op de eerste rij te laten supporteren voor de Duivels. Afhankelijk van hun uiteindelijke positie in de groep, zal het team ofwel de achtste finales in Moskou of in Rostov spelen. Reservaties voor de fan vlucht zijn open vanaf vandaag.
Afhankelijk van hun eindpositie in de groepsfase zullen de Duivels ofwel de achtste finale spelen in Rostov ofwel in Moskou. Als het team groepswinnaar wordt, spelen ze op 2 juli in Rostov, terwijl een tweede plaats in de groepsfase zal resulteren in een wedstrijd op 3 juli in Moskou. Hoewel dit nog niet bekend is, kunnen de fans toch al één van de 280 plaatsen op de fan flight van Brussels Airlines reserveren via brusselsairlines.com/fanflights.
Als grote supporter van de Rode Duivels anticipeert Brussels Airlines op een positief resultaat voor de achtste finale en heeft de maatschappij ook al een fan flight gepland voor de kwartfinale. Als het team zich plaatst voor de kwartfinale voorziet de maatschappij vluchten voor elk scenario: Kazan op 6 juli of Samara op 7 juli.
Alle supportersvluchten na de groepsfase zullen eendagsvluchten zijn, wat betekent dat de fans de dag van de wedstrijd vanuit Brussels Airport vertrekken en direct na de wedstrijd terugkeren, waardoor een hotelnacht wordt vermeden.
Contacteer ons
Maaike Andries
Brussels Airlines
Wencke Lemmes
Brussels Airlines
Wencke Lemmes
Brussels Airlines
Kim Daenen
Brussels Airlines