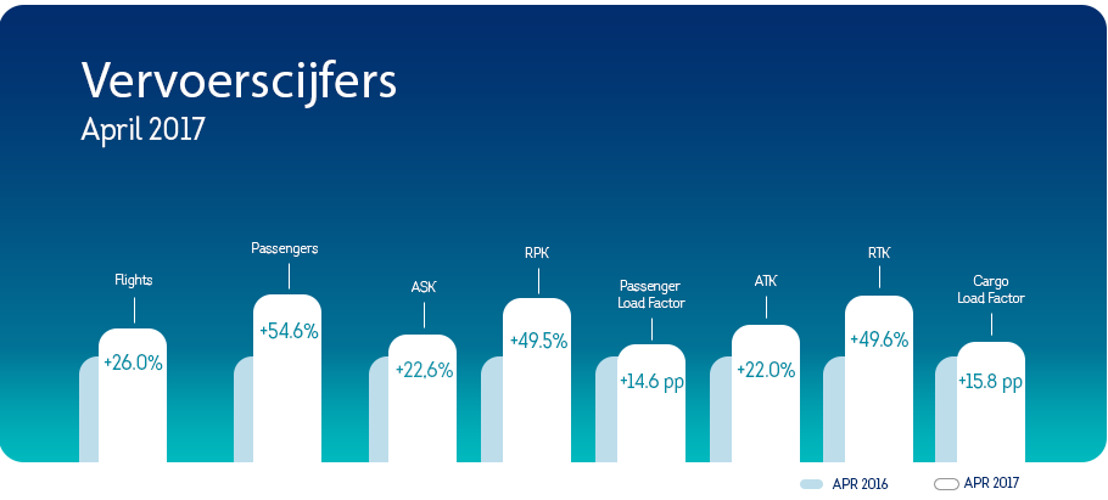 Drukke aprilmaand voor Brussels Airlines
Woensdag 10 mei 2017 — April was een drukke maand voor Brussels Airlines. In totaal vlogen er 837.646 passagiers aan boord van een intra-Europese of intercontinentale Brussels Airlines vlucht. De bezettingsgraad (Passenger Load Factor) van de vluchten bereikte zelfs 81%.
Nog nooit kozen er tijdens een aprilmaand zoveel passagiers voor Brussels Airlines als tijdens april 2017. In totaal werden er 837.646 passagiers verwelkomd aan boord van de 7.130 vluchten die vorige maand werden uitgevoerd. Daarvan kozen er 693.166 (ruim 82 pct) voor een intra-Europese vlucht en 144.480 (ruim 17 pct.) vlogen vanuit of naar Afrika, Noord-Amerika, het Midden Oosten of India.
In vergelijking met april vorig jaar werd een spectaculaire passagierstoename van 54, 6 procent geregistreerd. Maar vergelijken met april 2016 is moeilijk omdat tijdens de weken na de aanslagen van 22 maart een gereduceerd vluchtprogramma werd uitgevoerd.
De passagiersresultaten van april stemmen zeker tot de tevredenheid want de bezettingsgraad groeide tot 81 pct.
De nieuwe Mumbai verbinding die eind maart van start ging trok in april al bijna 8.000 passagiers aan. Nog in april werd het Portugese eiland Madeira aan het groeiend Europese netwerk toegevoegd. Ook deze wekelijkse vlucht kende bemoedigende resultaten.
De cargoresultaten zaten eveneens in stijgende lijn. Er werden 162.192 Revenue Ton Kilometres (RTK) gerealiseerd. Dat is een stijging met 49.6 pct terwijl de Available Ton Kilometres maar met 22 pct. toenamen.
In april werden er voor rekening van reisorganisatoren ook talrijke vakantie-vluchten en ad-hoc vluchten uitgevoerd. De passagiersstatistieken van deze vluchten zijn niet meegeteld in de cijfers van dit persbericht.
Month

Month

VLY difference in %

apr-17

apr-16

Flights

7,130

5,658

26.0%

Total Passengers

837,646

541,687

54.6%

-- Passengers Europe

693,166

442,712

56.6%

-- Passengers Africa

82,525

61,661

33.8%

-- Passengers North America

35,456

24,697

43.6%

-- Passengers Middle East

18,583

12,617

47.3%

-- Passengers Asia

7,916

/

/

Available seat-kilometers (ASK)

1,732,103,375

1,412,320,059

22.6%

Revenue Passenger-Kilometers (RPK)

1,403,686,142

938,871,990

49.5%

Passenger Load Factor (%)

81.0%

66.5%

14.6%pt

Available Ton-Kilometers (ATK)

207,090

169,760

22.0%

Revenue Ton-Kilometers (RTK)

162,192

108,442

49.6%

Cargo Load Factor (%)

63.8%

48.0%

15.8%pt

Deze cijfers zijn gebaseerd op de passagiersdata die momenteel beschikbaar zijn
Contacteer ons
Wencke Lemmes
Brussels Airlines
Wencke Lemmes
Brussels Airlines
Kim Daenen
Brussels Airlines
Geert Sciot
Brussels Airlines