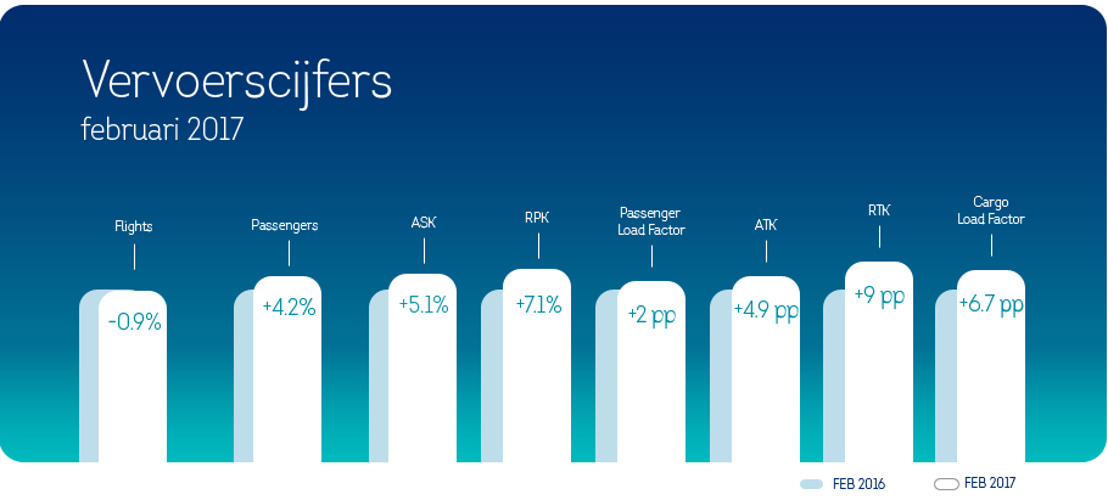 Passagiersgroei van 4,2% voor Brussels Airlines in februari
Donderdag 9 maart 2017 — Ook tijdens de voorbije maand februari groeide het aantal Brussels Airlines passagiers opnieuw. In totaal vlogen er 545.869 passagiers met Brussels Airlines vanuit of naar Brussels Airport. Dat is een toename met 4,2% in vergelijking met februari 2016.
In vergelijking met vorig jaar groeide het aantal klanten dat voor een Europese vlucht van Brussels Airlines koos met 3%. Tussen Brussels Airport en Afrika reisden 4,5% meer passagiers en de vluchten van en naar Noord-Amerika trokken 28,8% meer passagiers aan. De Noord-Amerika groei is deels te verklaren door de nieuwe bestemming Toronto die vorig jaar in april werd gelanceerd.
Vorig jaar telde februari een dag meer. De passagiersgroei van 4,2% ten opzichte van vorig jaar is daarom behoorlijk.
Het aantal passagiers steeg sneller dan het zetelaanbod. De bezettingsgraad nam hierdoor met 2 percent punten toe en bedroeg 72,8%.
Ook het getransporteerde vrachtvolume evolueerde positief. Uitgedrukt in cargobezettingsgraad werd een toename van 6,7 procent punten genoteerd. De groei was vooral merkbaar in de vrachtvolumes op de vluchten naar New York en Toronto.
In deze statistieken zijn de passagiers die Brussels Airlines verwelkomde aan boord van de vele chartervluchten of speciale ad hoc vluchten die in februari werden uitgevoerd niet inbegrepen.
Month

Month

difference in %

February 2017

February 2016

Flights

5,640

5,691

-0.9 %

Total Passengers

545,869

524,052

4.2 %

-- Passengers Europe

450,166

436,914

3.0 %

-- Passengers Africa

71,350

68,291

4.5 %

-- Passengers North America

12,194

9,465

28.8 %

-- Passengers Middle East

12,159

9,382

29.6 %

Available seat-kilometers (ASK)

1,173,963,909

1,117,425,437

5.1 %

Revenue Passenger-Kilometers (RPK)

854,706,455

797,890,847

7.1 %

Passenger Load Factor (%)

72.8%

71.4%

2.0 pt

Available Ton-Kilometers (ATK)

138,685

132,215

4.9 %

Revenue Ton-Kilometers (RTK)

100,203

91,946

9.0 %

Cargo Load Factor (%)

74.6%

67.9%

6.7 pt
Cijfers gebaseerd op momenteel beschikbare resultaten
Contacteer ons
Wencke Lemmes
Brussels Airlines
Wencke Lemmes
Brussels Airlines
Kim Daenen
Brussels Airlines