14.7% more passengers for Brussels Airlines in March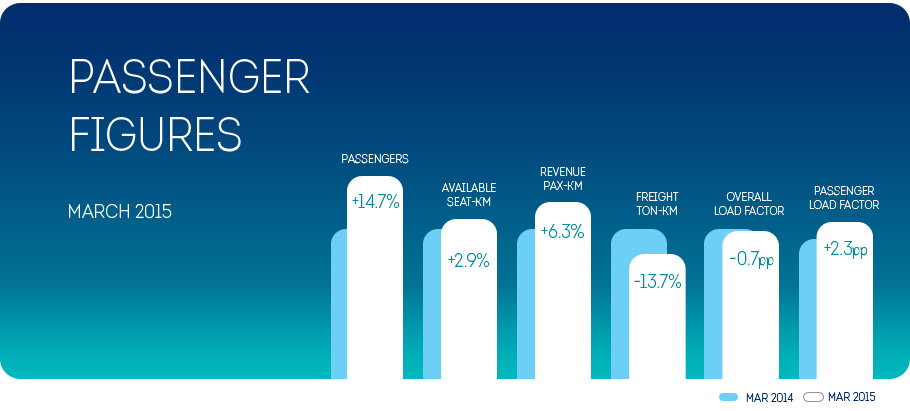 During the month of March, Brussels Airlines registered a passenger increase of 14.7%. The growth is mainly due to a strong passenger increase on the European network.
In March, which is the last month of the aviation winter season, 563,365 passengers flew with Brussels Airlines from or to a European, African or US destination, or 72,328 passengers more than in the same month in 2014.
The main driver behind the growth was the European network, which attracted 489,794 passengers. 59,454 passengers flew between Brussels Airport and an African destination while 14,117 passengers used a Trans-Atlantic flight.
The seat load factor increased by 2.3 percentage points, to 69.1 percent.
In addition to its scheduled flight activity, Brussels Airlines operated many holiday flights for tour operators, meeting and incentive agencies and sports clubs. Passenger figures for these charter activities are not included in the monthly figures of this press release.
March

2015

March

2014

Month/month difference in %

Passengers

563,365

491,037

+ 14.7

Available seat-kilometres (in millions)

1231.81

1197.36

+ 2.9

Revenue Passenger-kilometres (in millions)

850.75

800.01

+ 6.3

Freight ton-kilometres (in millions)

16,531

19,148

- 13.7

Overall Loadfactor (Passenger & Freight)

59.7%

59.0%

- 0.7 pct point

Passenger Load Factor (PLF)

69.1%

66.8%

+ 2.3 pct point
Figures based on preliminary data currently available.