18.6 percent more passengers for Brussels Airlines in October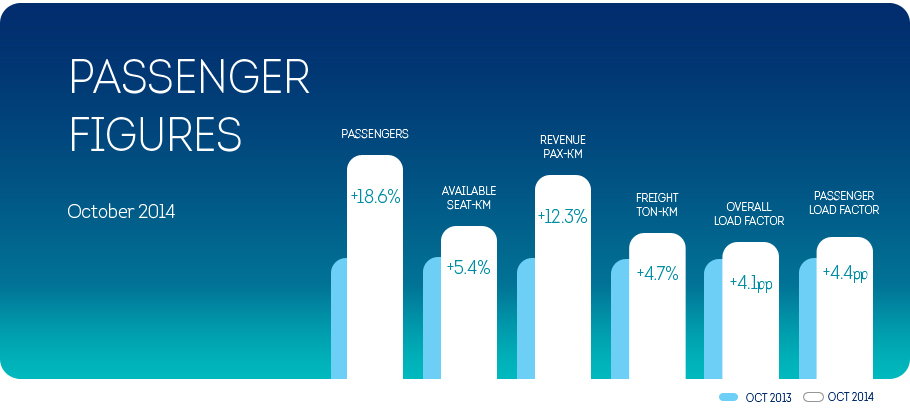 Brussels Airlines closes the summer period with a passenger growth of 18.6% in October. In total 624,794 passengers chose Brussels Airlines. The passenger load factor grew by 4.4 percentage points.
October was the first month during which Brussels Airlines offered its European passengers its four new travel options Check&Go, Light&Relax, Flex&Fast and Bizz&Class. The passenger growth that Brussels Airlines has been registering since spring continues in October. In total Brussels Airlines welcomed 98,000 more passengers compared to last year.
The number of passengers on European flights rose by 21.5% and the flights to and from Africa welcomed 1.5 % more passengers. Passenger figures on flights to the United States remained stable.
The passenger load factor for European flights increased by 6.5 percentages and amounted to 77.6%. The load factor for flights to the USA grew by 4.5 percentage points and for flights to Africa by 0.8 percentage points.
In addition to its scheduled flight activity, Brussels Airlines operated many holiday flights for tour operators, meeting and incentive agencies and sports clubs. Passenger figures for these charter activities are not included in the monthly figures of this press release.
October

2014

October

2013

Month/month difference in %

Passengers

624,794

526,651

+ 18,6

Available seat-kilometres (in millions)

1,303.04

1,235.90

+ 5,4

Revenue Passenger-kilometres (in millions)

941.04

837.87

+ 12,3

Freight ton-kilometres (in millions)

16,147

15,420

+ 4.7

Overall Loadfactor (Passengers & cargo)

62.8%

58.7%

+4.1 pct point

Passenger Load Factor PLF

72.2%

67.8%

+4.4 pct point