3.8% growth in June for Brussels Airlines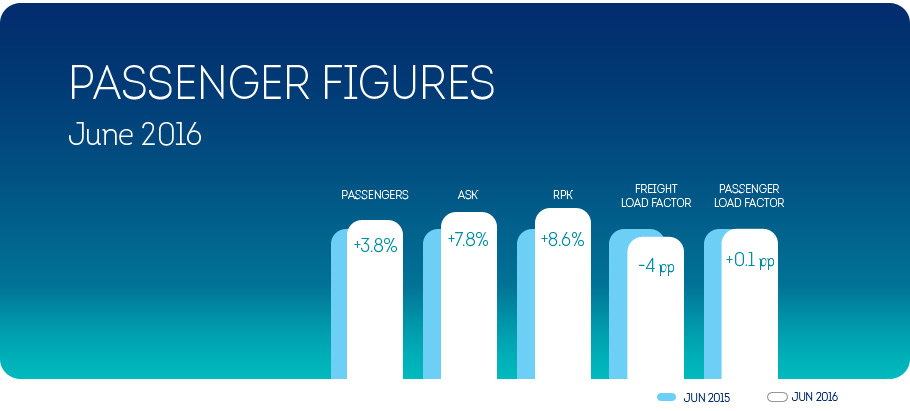 In June, Brussels Airlines flew 735,928 passengers across its European and intercontinental network, or 3.8% more compared to June last year. The seat load factor remained stable.
Out of 735,928 passengers, 627,728 chose a European destinations, an increase of 2.4% compared to June 2015.
The number of passengers that traveled between Brussels Airport and Africa or North America grew by 6.9% and 31.1% respectively. The large growth on the North American network is mainly due to the new Toronto route, which did not exist yet last year and positively influenced this year's trans-Atlantic figures.
Also in June, the airline added a new European route to its network. Since June 14, the French harbor city Nantes is served 12 times a week.
The seat load factor remained stable at 77.4%.
The freight load factor decreased from 68 to 64%. This decline is mainly due to changes in the cargo network (the Nairobi route was stopped and the freight activity on the new Toronto line is still developing)
In addition to its scheduled flight activity, Brussels Airlines operates many holiday and group flights for tour operators. Passenger figures for this activity are not included in the figures of this press release.
June

2016

June

2015

Year/year difference in %

Passengers

735,928

708,496

+ 3.8

Available seat-kilometers (in millions)

1,589.48

1,475.05

+ 7.8

Revenue Passenger-kilometres (in millions)

1,206.24

1,111.20

+ 8.6

Freight Load Factor

68%

64%

- 4 pct. point

Passenger Load Factor

77.4%

77.3%

+ 0,1 pct. point