5.2% more passengers for Brussels Airlines in July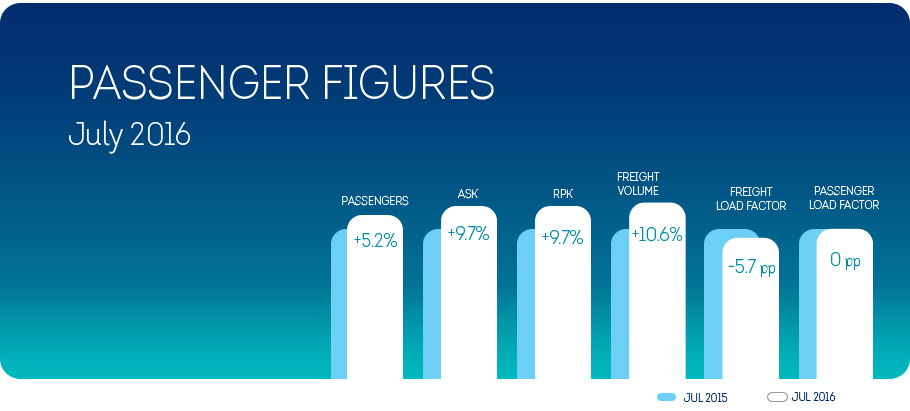 Compared to last year, Brussels Airlines flew 5.2% more passengers in July. In total 788,491 passengers boarded one of its European and intercontinental flights.
July was a busy period at Brussels Airport, but nonetheless it was a very smooth month.
Both in the first and the last weekend of July, Brussels Airlines hit a record number of passengers. More and more passengers choose Brussels Airlines for their summer vacation. Sun destinations in Spain, Portugal, Greece, France, Italy and Croatia proved to be very popular. Another highlight in July was Tomorrowland. Brussels Airlines flew more than 10,000 foreign music fans to the world-renowned festival.
The number of passenge on the European flights grew by 4.1%. The flights to the US and Canada were also very successful, with 45.6% more passengers, which is mainly due to the opening of the new Canadian route Toronto. On the African connections, Brussels Airlines welcomed 1.9% more passengers.
The passenger growth is partly due to the airline's increased offer. Compared to last year, Brussels Airlines offered more seats to various existing destinations, and 9 new destinations were added to the network (Crete, Thessaloniki, Jerez, Belfast, Nantes, Tenerife, Las Palmas, Nuremberg and Toronto).
The seat load factor remained stable at 82.7%.
The transported freight volume increased by 11% compared to July 2015, which can mainly be attributed to an increase of volumes from Europe to Africa and North-America leading to an increase by 5% of the freight load factor on these routes. However, the overall freight load factor decreased by 5.7% to the capacity increase and shifts in the network
In addition to its scheduled flight activity, Brussels Airlines operates many holiday and group flights for tour operators. Passenger figures for this activity are not included in the figures of this press release.
July

2016

July

2015

Year/year difference in %

Passengers

788,491

748,978

+5.2

Available seat-kilometres (in millions)

1,629.70

1,485.50

+9.7

Revenue Passenger-kilometres (in millions)

1,347.60

1,228.81

+9.7

Freight tonnage

2,934

2,654

+10.6

Freight Load Factor

58.0

63.7

-5.7 pct. points

Passenger Load Factor

82.7%

82.7%

0 pct. points