April figures reflect aftermath of March 22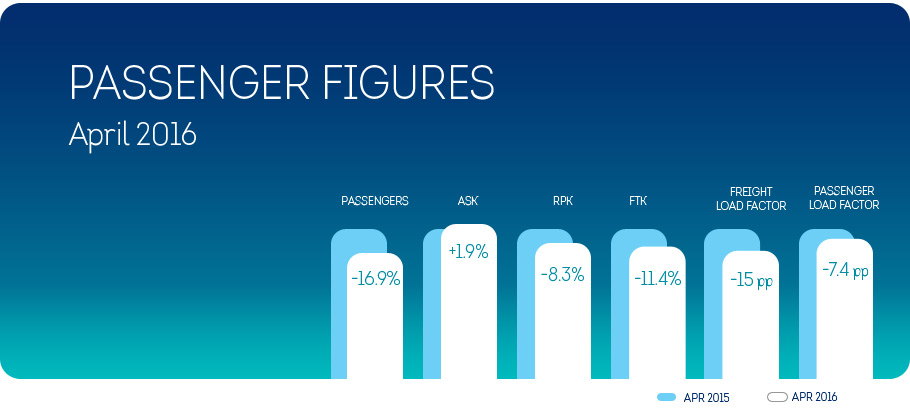 During the month of April, 542,226 passengers flew on a Brussels Airlines flight, or 16.9 percent less than in April last year. These figures reflect the aftermath of the terrorist attacks of March 22, which forced Brussels Airlines to operate fewer flights.
Brussels Airlines' home base Brussels Airport was closed for all passenger traffic until April 3. Since that day, Brussels Airlines has progressively rebuilt its flight offer from Brussels Airport, while reducing its flights from the regional airports to which the airline had deviated its flights. By the end of April, Brussels Airlines was operating around 85% of its flight program.
The operational challenges, together with the commercial impact of the March 22 attacks, translated into a passenger decrease of 16.9 percent in April. This is mainly due to the negative growth recorded during the first half of the month. As the month progressed, the passenger evolution improved. Furthermore the figures are influenced by the fact that the busy eastern holidays started in April last year, while this year they started in March.
The decrease was mainly recorded on the European network. On board of African flights, Brussels Airlines welcomed 2.6% more passengers. The Trans-Atlantic flights attracted 9.8% more passengers, partly thanks to the launch of new destination Toronto.
Operational impact
"The figures reflect a period during which our flight program could not be executed normally, due to infrastructural limitations. In May the operational situation improved tremendously. Passengers do not need to come to the airport earlier anymore and the long waiting lines are a thing of the past. We have undertaken many commercial initiatives to further stimulate market demand."

-- Bernard Gustin, CEO Brussels Airlines
The seat load factor of the flights amounted to an average of 66.5%. The European flights even recorded an average load factor of 71.4%, and on flights to/from Africa and the US, respectively 61 and 63% of the seats were occupied. The freight load factor on flights to Africa was at 68% (80% in 2015), while the freight volumes on board of flights from Africa to Brussels remained stable.
In addition to its scheduled flight activity, Brussels Airlines operates many holiday and group flights for tour operators. Passenger figures for this activity are not included in the figures of this press release.
April

2016

April

2015

Year/year difference in %

Passengers

542,226

652,532

-16.9

Available seat-kilometres (000)

1,412.27

1,386.30

+1.9

Revenue Passenger-kilometres (000)

938.63

1,023.78

-8.3

Freight ton-kilometers

(000)

15,343

17,324

-11,4

Freight Load Factor

65%

80%

-15 pct. points

Bezettingsgraad Passagiers (Passenger Load Factor)

66.5%

73.9%

- 7.4 pct. points
Figures based on preliminary data currently available