Brussels Airlines : new campaigns, new colours, a new tagline and new products
The Brussels Airlines marketing team launches a brand new market positioning today.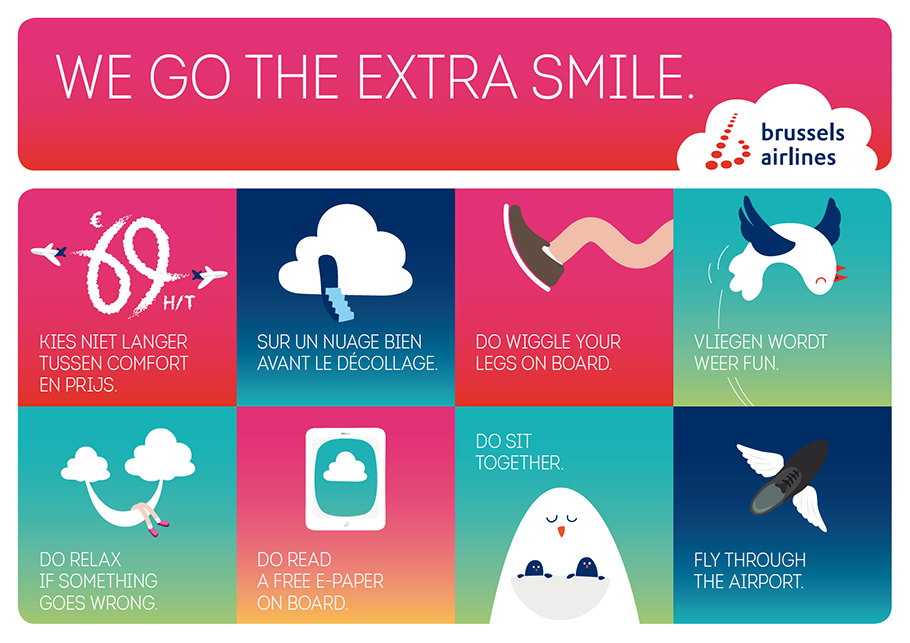 "THE passengers" doesn't exist anymore. The number of different types of passengers has grown over the last years. And someone who travels for professional reasons today, may make a city trip next month or travels abroad to visit a family member, and will have different needs and expectations every time. One passenger looks for the cheapest fare or has no luggage to check in, the other wants to save time and travel in all comfort. More than ever, product segmentation has become very important. With this evolution in mind, Brussels Airlines has worked on a new market positioning, which is being rolled out today.
We give the choice to our customers,we let them decide what is important during their travels. With Check&Go, Light&Relax, Flex&Fast and Biz&Class we have developed four products with their own features and pricing. This unique product offer gives the customer the service choice and budget freedom he wants today."

-- Nathalie Erdmanis, Brussels Airlines VP Marketing
Whichever travel product the passenger prefers, a personal service is key. Brussels Airlines hass chosen to position itself as a 'human airline', bringing people together and making travel a pleasure again and acting on new trends.
The new tagline 'We Go The Extra Smile' expresses this mission and the airline no longer speaks about passengers, but calls them 'guests' instead.
"Brussels Airlines positions itsels as an airline with a 'can do' mentality. Nowadays an airline offers service, or focuses on price only. Brussels Airlines will prove that attractive prices and service can go hand in hand."

-- Nathalie Erdmanis, Brussels Airlines VP Marketing
Because aviation has such strict rules, passengers are constantly confronted with a lot of "don't's". That's why Brussels Airlines bases its new campaign and philosophy on "do's", like "do wiggle your legs on board" (plenty of leg space for that), "do sit together", "do start your holiday on board"… with which they want to emphasize their advantages towards their customers.
To market the 4 new travel products and the new approach, Brussels Airlines has teamed up with marketing agency TBWA, who have worked out a fresh new style for the airline, with new colours which will be used in all future campaigns.