Brussels Airlines - 15 years to Africa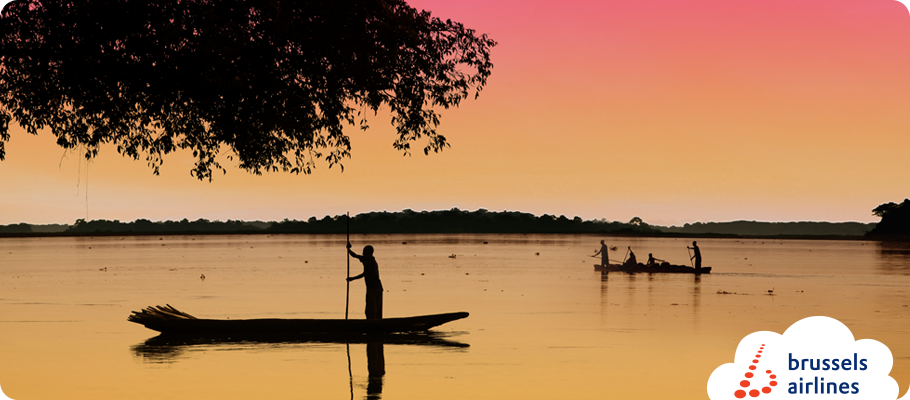 Brussels Airlines celebrates its 15th anniversary on the African continent this summer. In that time, more than 8 million passengers travelled on Brussels Airlines' flights between Brussels Airport and Africa. With 17 sub-Saharan destinations and 79 flights every week, Brussels Airlines is one of the most important European players in Africa, both in passenger traffic as in freight activity.
This summer marks the fifteenth anniversary of the first Brussels Airlines flight to Kinshasa. Very soon after the creation of the airline, Brussels Airlines already started its African network, thus continuing the long presence of Belgian aviation on the continent.
In 2002, the African network consisted of 13 destinations which were opened during the course of the spring and summer: Kinshasa, Dakar, Banjul, Conakry, Monrovia, Douala, Yaoundé, Kigali, Entebbe, Nairobi, Abidjan, Luanda and Freetown. These destinations were served with 3 long haul aircraft, operating 38 flights per week.
Fifteen years later, Brussels Airlines' African offer consists of 82 per week to 17 destinations. Now operated with 7 aircraft, the African flight program was extended to Bujumbura, Cotonou, Accra and Ouagadougou. On top of the new destinations, the number of flights to existing destinations was increased.
Africa hub
In those 15 years, Brussels Airlines welcomed more than 8.2 million passengers on board of its flights from and to African destinations and transported over 300,000 tons of cargo.
While Belgium remains a number one destination for several connections (Kinshasa, Kigali, Dakar, ..), there are also a lot of passengers who fly with Brussels Airlines or Star Alliances partners to other countries via Brussels Airport (in Europe mainly to France, Great-Britain, Germany, Italy, Spain, Switzerland and Scandinavia, intercontinental mostly the States and Canada). Brussels Airlines has developed a real African hub at Brussels Airport with several thousands of Africa passengers arriving, departing or connecting to other countries.
The bellies of the planes flying from or to Africa are mainly loaded with fresh vegetables and fruits, fish, spare parts, mail and medical shipments. Brussels Airlines is not only known as an African specialist in the passenger market but also in the freight market. Brussels Airlines Cargo developed for example a successful 'Fresh to shelve' service that allows African farmers and breeders of agricultural products to send their fruits and vegetables to Europe only a few hours after the harvest. This way, the products are already available in the supermarkets 24h after harvesting. Also for pharmaceutical shipments, which are very sensitive to temperature changes, Brussels Airlines Cargo invested in solutions that can guarantee optimal temperature control during transport.
Employment
To operate its flights to and from Africa, Brussels Airlines has about 140 crew members on board every day. Hundreds of ground staff members (maintenance, check-in, tarmac services, security, catering, cargo, …) are working every day at the different airports. On the African continent, Brussels Airlines offers direct employment to almost 400 staff members. A multitude thereof is working for subcontractors who provide the ground services for Brussels Airlines.
Corporate Social Responsibility
Brussels Airlines is also very active in Africa in terms of Corporate Social Responsibility. The Brussels Airlines 'b.foundation for Africa', which supports good causes, has a strong focus on health care in Africa. Several employees of the airline have also launched their own projects that are backed up by the company. Every two years, Brussels Airlines organizes a 'Bike for Africa' mountain bike tour involving 70 participants biking through an African country to raise money for a local organization and to get to know the country and its inhabitants from a different perspective. The next edition takes place in Cameroon in February 2018.