Brussels Airlines achieves record seat load factor in August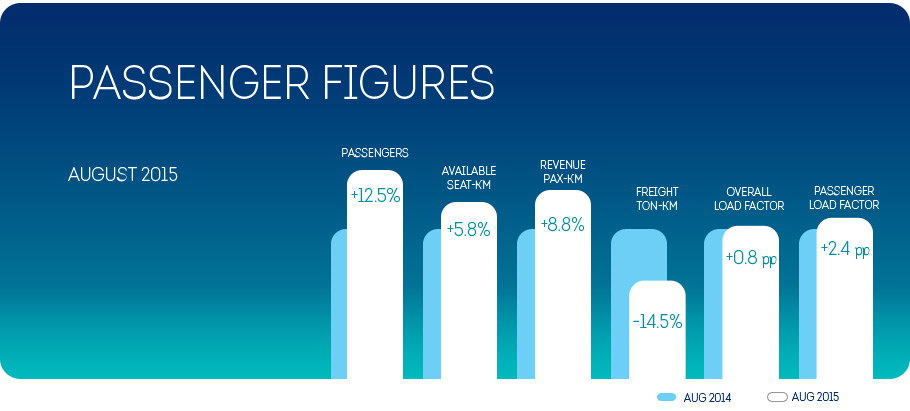 During the past month of August the passenger activity of Brussels Airlines grew by 12.5 percent. The seat load factor of their aircraft reached a new record in the history of the company: 83.9 percent.
In August Brussels Airlines welcomed 700,891 passengers on board its European and intercontinental flights, or 78,046 more than the same period in 2014.
The flights to and from European destinations drew 13.4 percent more travelers; the African flights 7.9 percent and on the American network the New York and Washington flights recorded a growth of 9.2 percent.
The passenger increase led to a significant improvement of the seat load factor, reaching 83.9 percent, a record for the airline. Never in the 13-year history of the company, their aircraft had such a high occupancy rate.
The most popular European flights were the new Mediterranean destinations the airline launched this summer.
Due to the high passenger load factor, less freight capacity was available.
In addition to its scheduled flight activity, Brussels Airlines operated many holiday flights for tour operators, meeting and incentive agencies and sports clubs. Passenger figures for these charter activities are not included in the monthly figures of this press release.
August

2015

August

2014

Month/month difference in %

Passengers

700,891

622,845

+ 12.5

Available seat-kilometres (in millions)

1,446.38

1,367.43

+ 5.8

Revenue Passenger-kilometres (in millions)

1,213.30

1,114.71

+ 8.8

Freight ton-kilometres (in millions)

12,616

14,752

- 14.5

Overall Loadfactor (Passengers & Freight)

68.9%

68.1%

+ 0.8 pct points

Passenger Load Factor (PLF)

83.9%

81.5%

+ 2.4 pct points
Figures based on preliminary data currently available.