Brussels Airlines and Tomorrowland unite the world in Belgium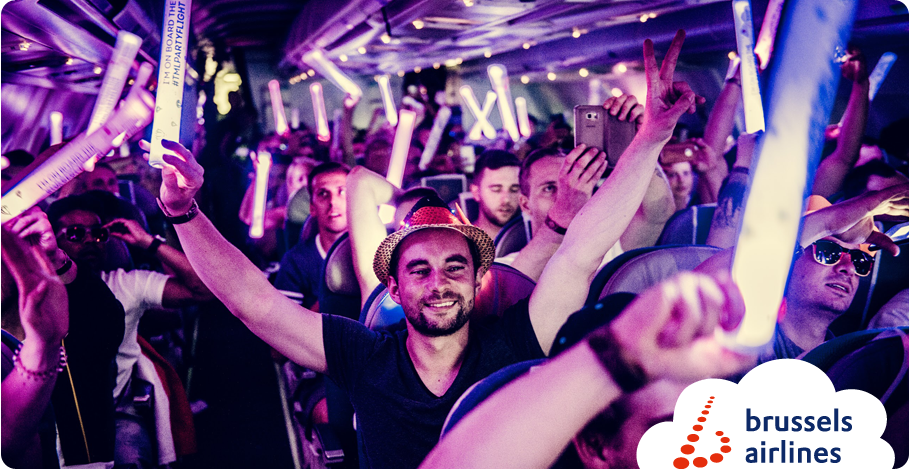 12 july 2018 - For the seventh year in a row Brussels Airlines organizes party flights from all over the world to bring 11,571 festival goers to Tomorrowland in Boom. With 240 flights the company brings music fans from 83 different airports to Belgium, uniting 100 nationalities at the World's Best Music Festival.
During both festival weekends 400,000 party goers from 200 different countries will unite at Tomorrowland, the World's Best Music Festival, this year in theme of 'the story of Planaxis'. ​ To bring music fans from all over the world to the festival, Brussels Airlines and Tomorrowland again offered Global Journey packages that include the hotel stay or DreamVille ticket, a train, bus or flight ticket and entrance to the festival. This year, 11,571music fans with 100 different nationalities will fly on a Brussels Airlines party flight. 410 of the international music fans chose a Discover Europe package, in which they can combine Tomorrowland with a visit to several European cities, including Amsterdam, Barcelona and Ibiza. In total 240 flights will leave from 83 different airports. ​ 55 #TMLpartyflights will take to the sky with music on board, whereof 9 will even host a live DJ-set at 30,000 feet altitude. On top of parties on board, guests will also get warmed up for the fairy tale weekend thanks to 30 gate parties, organised by several airports.
Like every year, the ticket sale of the airline's party flights was overwhelming; all packages were sold out in no time. The most popular departure cities are Geneva, Barcelona and Basel. The most represented nationalities on the party flights are Spanish (2012), Swiss (1936) and British (1068), but also Sweden, Germany and Norway are well represented.
For the second time Brussels Airlines uses Amare to bring guests from all over Europe and beyond to Tomorrowland. Amare is one of the five Belgian Icons of Brussels Airlines, an Airbus A320 dedicated to Tomorrowland. The aircraft has an impressive special painting featuring a giant eagle as well as mood lighting and a superior music installation on the inside, playing the Tomorrowland anthem by Hans Zimmer. This year the Brussels Airlines cabin crew will also wear their uniforms with special Tomorrowland/Amare themed scarves and ties.
In order to make sure party flight guests have a smooth trip home after their Tomorrowland experience, Brussels Airlines and Brussels Airport offer a baggage drop off point at the DreamVille camping. This way Tomorrowland goers don't have to carry their bags and tents to the airport and can have a relaxed day of sightseeing or travel carefree to the airport. With the baggage drop point, Brussels Airlines is a real frontrunner as it is the only airline to offer such a service at a big event.
Besides organizing party flights, Brussels Airlines also hosts The Loop, a giant Ferris wheel at the festival site. A ride on The Loop offers Tomorrowland visitors a stunning view over the magic Tomorrowland landscape and beyond.
Brussels Airlines and Tomorrowland started their collaboration in 2012. Together they created Global Journey, offering international music fans packages that combine the festival with both transport and hotel or camping stay. In 2017 the airline revealed Amare, an aircraft dedicated to the festival with a Tomorrowland themed livery on the outside and special light and sound effects creating a Tomorrowland experience on the inside. During the first year, in 2012, the airline organized 25 party flights.