Brussels Airlines celebrates its tenth anniversary as Star Alliance member
Star Alliance launches Connection Service at Brussels Airport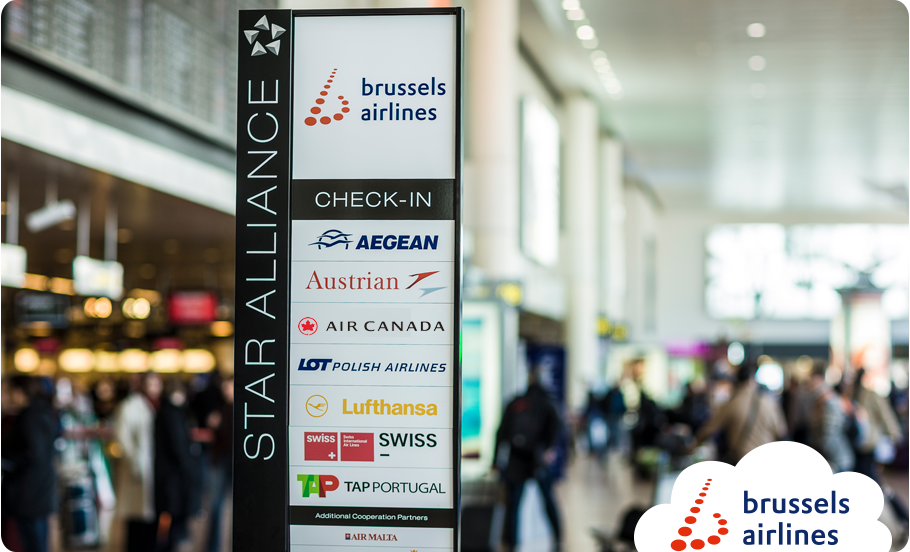 Ten years ago today, Belgian airline Brussels Airlines joined the largest airline network in the world: Star Alliance. The membership has made of Brussels Airport one of the biggest strategic connecting hubs in the Star Alliance network and has opened up a multitude of advantages for Star Alliance guests, including the newly launched Star Connection Service, helping customers with flight connections at risk to make it on time to their flight, together with their luggage.
On 9 December 2009, Brussels Airlines announced that the Star Alliance Board Members had approved its application to join the leading airline alliance. Since the entrance of Brussels Airlines in the Star Alliance, Brussels Airport has become a strategic hub for the alliance. Star Alliance carriers serve 44 countries, 91 destinations and operate 309 daily flights out of Brussels, which has become one of Star's biggest transfer hubs with 1.3 million transfer passengers each year.
"The added value of Star Alliance is ever more relevant today, as our customers really value the seamless travel experience that it creates and the global network coverage it offers. It gives access to more than a thousand airport lounges across the globe and with the newly launched Connection Service our customers know they are taken care of when they risk missing their connection. It is a true quality label for our airline." ​
​- Christina Foerster, CEO of Brussels Airlines
The membership in the world's largest global airline alliance is not only a quality recognition for Brussels Airlines, but also opened a world of advantages to its guests, with seamless travel journey, access to more than a thousand airport lounges all over the world and new commercial products and services, to name a few.
Additionally, Star Alliance has recently launched its Connection Service at Brussels Airport, which helps customers with flight connections at risk transiting through BRU to secure their onward connecting flight.
Dedicated Star Alliance Connection Service staff utilise special software that monitors the transfer window for customers with onward flights to another alliance member airline. In cases of delays or disruptions which could place their flight connection at risk, these customers are automatically highlighted, allowing a Connection Service agent to put into action the most appropriate remedy to assure both the passenger and their checked baggage achieve their connection. This can include a personal escort for the customer to their connection departure gate.
As a mascot of the Star Alliance membership, one of Brussels Airlines' Airbus A319 (OO-SSC) flies in a special Star Alliance livery. ​ The aircraft is a favorite subject for airplane spotters.