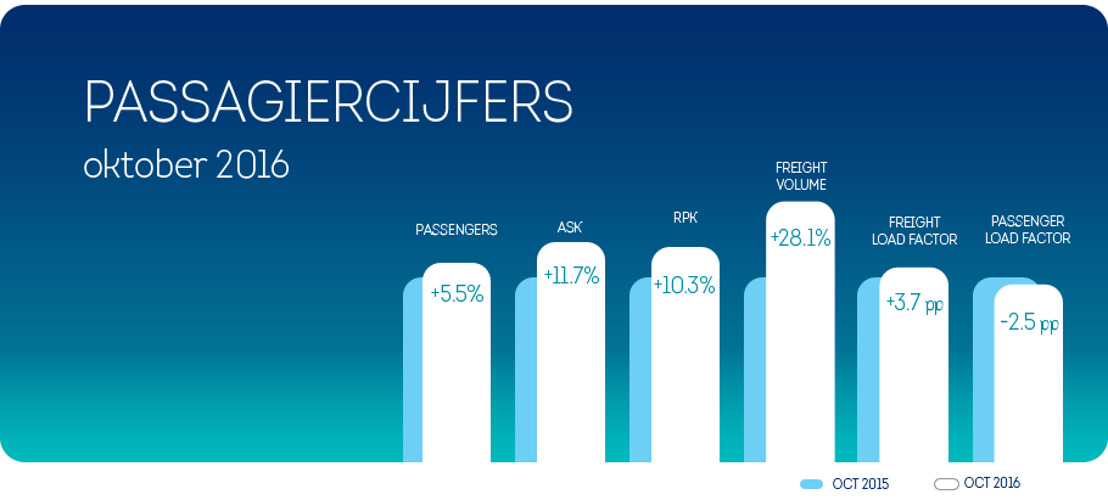 Brussels Airlines eindigt maand oktober met passagiersgroei van 5,5 %
Donderdag 10 november 2016 — In oktober vlogen er 752.290 passagiers met Brussels Airlines. Dat zijn er 39.146 meer dan in oktober vorig jaar en een passagiersgroei van 5,5 %.
In de maand oktober trok Brussels Airlines een sterke mix van zowel zakenreizigers als passagiers aan die een citytrip maakten of van een late zomervakantie genoten. Met een passagierstoename van 5,5 % verstevigt Brussels Airlines verder haar marktpositie
Het Europees netwerk verwelkomde 3,2% meer passagiers. Naar Afrika reisden er 5,2% meer klanten met Brussels Airlines. De trans-Atlantische routes naar Washington, New York en Toronto trokken 28,4% meer passagiers aan. De grote groei van de vluchten naar Noord-Amerika is grotendeels te danken aan nieuwkomer Toronto die sinds april dit jaar wordt aangevlogen.
De vrachtactiviteit groeide ook gevoelig. In totaal werd er in de maand oktober 3.255 ton vracht vervoerd. Dat is een toename met 28,1%.
In deze statistieken zijn de passagiers die Brussels Airlines verwelkomde aan boord van de vele chartervluchten of speciale vluchten die in oktober werden uitgevoerd niet inbegrepen.
| | | | |
| --- | --- | --- | --- |
| | October | October | Year/year difference in % |
| Passengers | 752,290 | 713,144 | + 5.5% |
| Available seat-kilometres (in millions) | 1,607.9 | 1,439.67 | + 11.7% |
| Revenue Passenger-kilometres (in millions) | 1,206.3 | 1,093.51 | + 10.3% |
| Freight tonnage | 3,255 | 2,541 | + 28.1% |
| Freight Load Factor | 61.4% | 57.7% | + 3.7 pct points |
| Passenger Load Factor | 76.2% | 78.7% | - 2.5 pct points |
Cijfers gebaseerd op momenteel beschikbare resultaten
Contacteer ons
Kim Daenen
Brussels Airlines
Wencke Lemmes
Brussels Airlines
Wencke Lemmes
Brussels Airlines
Maaike Andries
Brussels Airlines