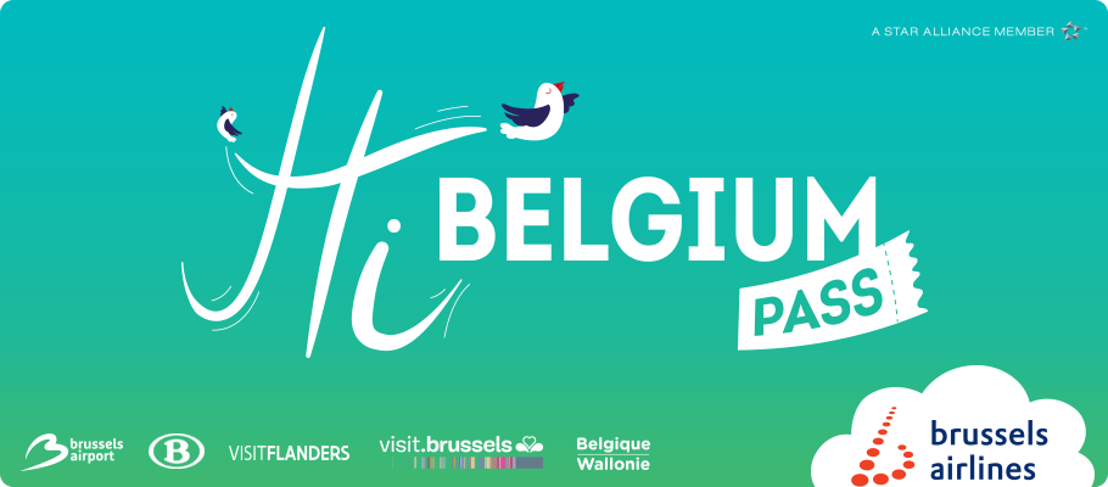 Brussels Airlines expands Hi Belgium Pass to 13 Belgian cities
Friday, September 29, 2017 — The Hi Belgium Pass, a joint initiative by Brussels Airlines, Brussels Airport, the Belgian railways and several tourism offices to make more Europeans discover Belgium, is expanding. After a successful start in April, the pass will now include 6 additional Belgian cities (bringing the total to 13) and their attractions.
Last Spring, Brussels Airlines, Brussels Airport, the Belgian railways and several Tourism offices joined forces to stimulate the incoming tourism. With a Hi Belgium Pass visitors from 18 European countries and from Russia (50 airports) get a return flight to Belgium with Brussel Airlines, unlimited train rides throughout Belgium during their entire stay and free access to a wealth of tourist attractions (musea, guided tours, etc.) in two Belgian cities of their choosing. Thanks to the efforts of all participating organizations, this unique and convenient all-in-one pass can be offered at €149.
6 additional cities
Until now, Hi Belgium Pass customers could choose between Antwerp, Bruges, Ghent, Leuven, Liège or Mechelen, but thanks to the cooperation of several additional cities, Wallonie Belgique Tourisme and many museums and landmarks, the offer now expands to 6 new cities; Ieper, Charleroi, Eupen, Mons, Louvain-La-Neuve and Tournai. This means the pass will include, among others, the famous Flanders Fields Museum and The Belfort in Ieper, the Museum of Fine Arts in Charleroi, the IKOB International Art Centre in Eupen, the Hergé Museum in Louvain-La-Neuve, the Memorial Museum in Mons, the Puppet House Museum and the Tapestry Museum in Tournai.
Positive results
Six months after the launch of the Hi Belgium Pass, Brussels Airlines and its partners look back at a successful start. Several thousand Europeans have already experienced Belgium with a Hi Belgium Pass or will travel to Belgium soon. The most popular cities so far have been Bruges and Brussels, but also Antwerp, Liège Ghent, Leuven and Mechelen follow suit.
Remarkable is the popularity of the pass in Russia. A large number of Russians have already traveled or are planning to travel to Belgium soon with the Hi Belgium Pass. After Russia, Spain and Austria are at the top of the list as top countries that use the pass to discover Belgium. On average, Hi Belgium Pass visitors stay 3.6 days in Belgium and most of them travel in pairs.
For the busy autumn and Christmas period, usually a popular period for citytrips, Brussels Airlines expects high demand for this unique experience pass.