Brussels Airlines extends its flight offer for exchange students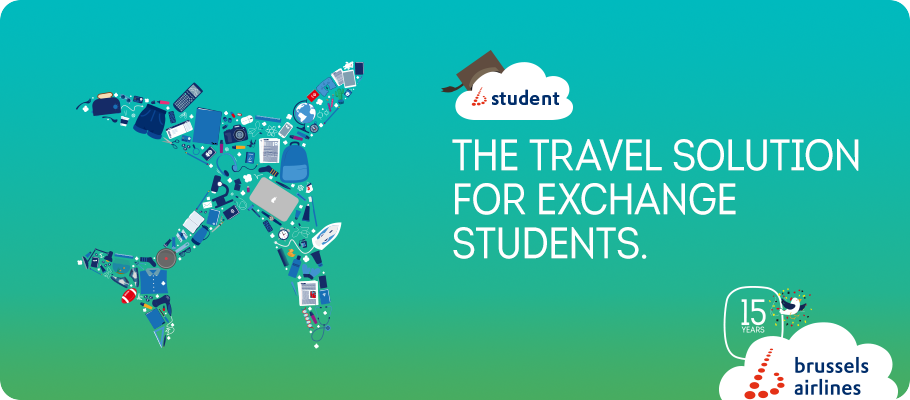 Brussels Airlines extends its unique travel package dedicated to exchange students with new destinations and advantages. Students who make use of the offer benefit from a fixed ticket price, can change their travel date free of charge, are allowed to check-in extra luggage and receive discounts for friends and family.
In 2013 Brussels Airlines successfully launched the b.student pack, an offer specially designed for exchange students who stay at least 3 months in Belgium or abroad. The formula received a warm welcome in the market. From today onwards, it will be extended to 52 instead of 35 European Brussels Airlines destinations.
With the b.student pack, students can travel to a European destination and back for 199 euro all in and benefit from several advantages. They can check in no less than 58 kg of luggage (12kg hand luggage and 2x 23kg checked luggage) and their return date can be changed once free of charge. On top, students also receive a 20% discount on five tickets for family and friends who wish to pay them a visit, or for themselves if they want to head home for a couple of days during their exchange.

Tailor made travel formulas
Next to the b.student pack, Brussels Airlines has some other tailor made service offers. The free of charge b.family formula focuses on families travelling with children. They get the guarantee to be seated next to each other among other family friendly advantages. Guests who fly regularly to the same European destination can purchase a b.pass, that offers six return flights. This pass is ideal for expats or for people with a second home abroad. Travelling in group becomes more attractive with b.group that offers a unique and attractive group fare and extra flexibility. Last but not least, every year around the Christmas period, Brussels Airlines places b.gifts in the market, gift vouchers that can be exchanged for a flight within Europe.