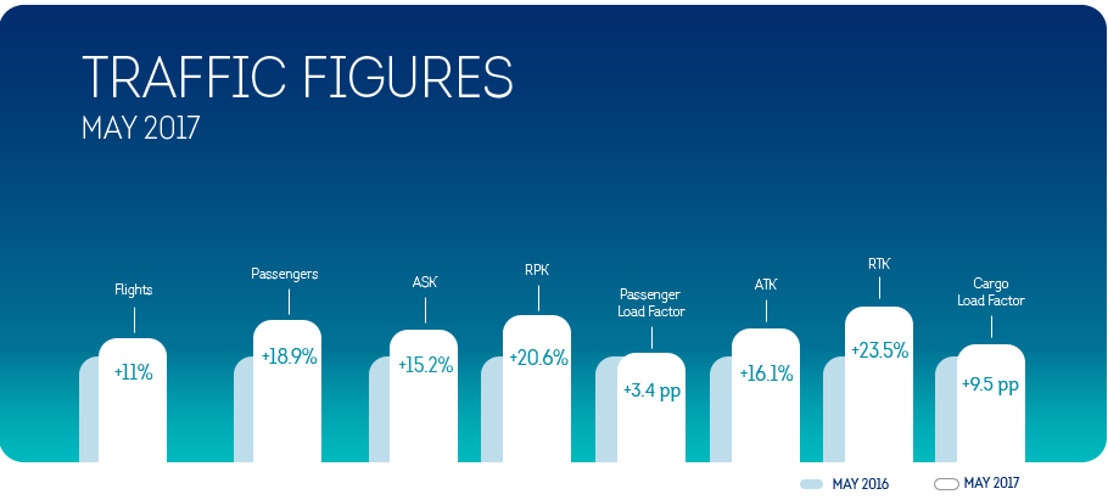 Brussels Airlines grows strongly in May
Monday, June 12, 2017 — During the month of May, Brussels Airlines recorded a passenger growth of 18.9%. The seat load factor increased by 3.4 % and the transported cargo volume rose significantly as well.
Last month, 839,320 passengers flew with Brussels Airlines. That is 133,572 or over 18.9% more than May 2016. During the month of May last year Brussels Airlines was still facing the aftermath of the attacks of 22 March, which had a negative impact on the passenger volume. Though this is not the only explanation for the strong growth that was registered this May. The success of Brussels Airlines' commercial strategy contributed to the solid growth of passengers as well.
Besides the European network, the flights to and from Africa performed well and the new route to Mumbai is having a successful start. As a result, the overall seat load factor increased by 3.4 % and amounted to 76.5%.
Like every year, Brussels Airlines launched several seasonal destinations in May, which are only operated during the spring- and summer months. For example Ibiza, Jerez de la Frontera, Olbia, Rhodos, Figari en Calvi show up again in flight schedule.
May was also a strong month for the cargo activity. Brussels Airlines Cargo saw its load factor grow with 9.5%. The Cargo volume, expressed in Revenue Ton Kilometers, increased by 23.5%.
During the month of May, numerous charter flights were performed on behalf of tour operators. The passenger figures of these flights are not taken into account in the figures of this press release.
Month

Month

VLY difference in %

May17

May16

Flights

7,701

6,936

11.0%

Total Passengers

839,320

705,748

18.9%

-- Passengers Europe

700,876

589,702

18.9%

-- Passengers Africa

78,306

68,637

14.1%

-- Passengers North America

33,049

31,076

6.3%

-- Passengers Middle East

17,908

16,333

9.6%

-- Passengers Asia

9,181

/

/

Available seat-kilometers (ASK)

1,812,135,939

1,573,189,387

15.2%

Revenue Passenger-Kilometers (RPK)

1,386,237,524

1,149,626,412

20.6%

Passenger Load Factor (%)

76.5%

73.1%

3.4%pt

Available Ton-Kilometers (ATK)

216,130

186,148

16.1%

Revenue Ton-Kilometers (RTK)

162,034

131,160

23.5%

Cargo Load Factor (%)

65.4%

55.9%

9.5%pt

Figures based on preliminary figures currently available