Brussels Airlines' growth trend continues in September
Brussels Airlines' growth trend continues in September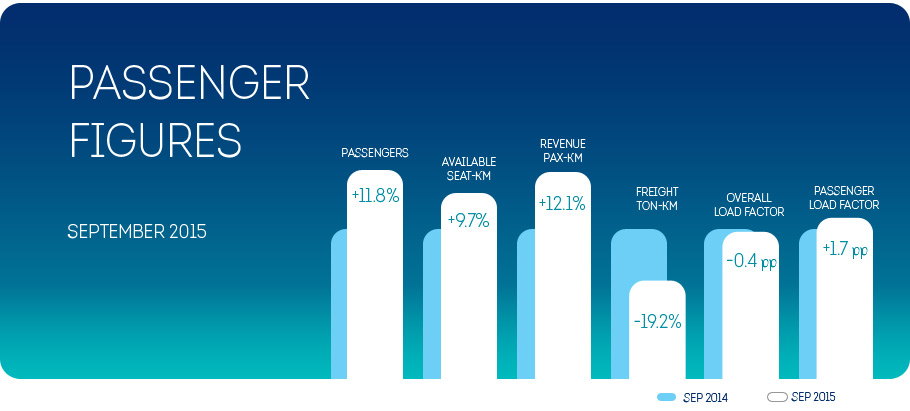 This September Brussels Airlines welcomed 11.8% more passengers. The growth was equally spread over the short / European and the middle-long / intercontinental network.
Brussels Airlines continues to record strong results. In September, the first month after the summer holidays, the airline's flights had an average seat load factor of 79.3%, and about 745,466 passengers chose a Brussels Airlines flight. In comparison to the same period last year this is a growth of 11.8%.
On the 9th of September 27,394 passengers traveled with Brussels Airlines, which is a new record in the 13-year history of the airline.
The passenger figures of September are in line with the growth trend that Brussels Airlines has been registering month after month. The largest growth was noted on the African network, which attracted 14.9% more passengers. The European network (+11.6%) as well as the flights to New York and Washington (+10.2%) also grew notably in September.
In September the Brussels Airlines network was expanded with two new destinations. Since that month Brussels Airlines connects the Croatian capital Zagreb six times a week with Brussels Airport and the North-German Bremen is operated every day of the week.
In addition to its scheduled flight activity, Brussels Airlines operated many flights for tour operators, meeting and incentive agencies and sports clubs. Passenger figures for these charter activities are not included in the monthly figures of this press release.
September

2015

September

2014

Month/month difference in %

Passengers

745.466

666.504

+11.8

Available seat-kilometres (in millions)

1,474.70

1,344.46

+ 9.7

Revenue Passenger-kilometres (in millions)

1,169.54

1,043.53

+12.1

Freight ton-kilometres (in millions)

11,972

14,810

-19.2

Overall Loadfactor (Passengers and Freight)

65.5%

65.1%

-0.4 pct point

Passenger Load Factor (PLF)

79.3%

77.6%

+1.7 pct point
Figures based on preliminary data currently available.