Brussels Airlines kicks off the summer season with 9 new destinations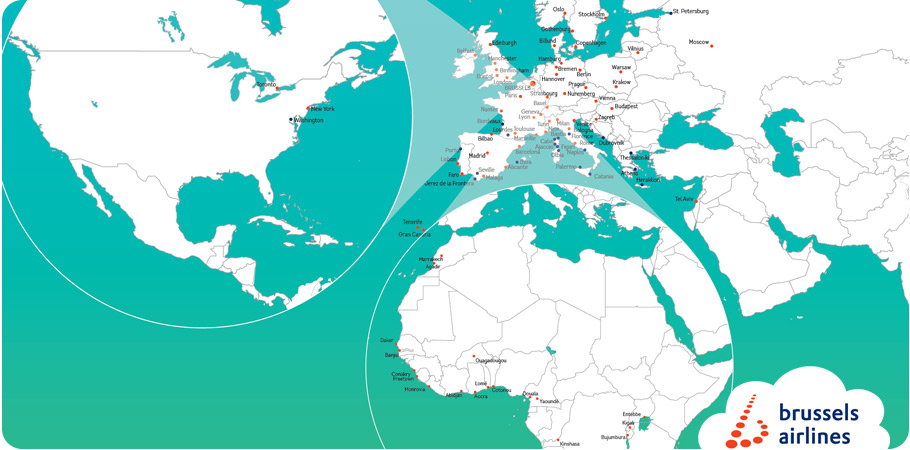 Brussels Airlines continues its growth pace in 2016. The aviation summer season, which begins on March 27, starts with a new long-haul destination, eight new European routes and a frequency increase to existing destinations.
Brussels Airlines significantly increases its flight offer during the summer season 2016. During a standard summer week, an average of 815 European flights and 95 international flights will be operated by 50 aircraft. The network now consists of 72 European, 19 African and 3 North American destinations. This network expansion creates a larger choice for the customer, on top of the even more flexibility that is offered thanks to the introduction of attractive one-way fares. What's more, with Brussels Airlines' new loyalty program 'LOOP', travelers can earn rewards even faster.
Long haul network
Toronto
Toronto is Brussels Airlines' recent destination in the long-haul offer. Toronto is the capital of the Canadian province Ontario with more than 2,6 million inhabitants which makes Toronto the most populated city in the country. Toronto and Lake Ontario region is the business and financial heart of Canada. The city has a vibrant cultural life and a lot to offer to tourists. The impressive 553-meter-high CN Tower, the aquarium, the Eaton shopping, the Distillery District, the Zoo, Canada's Wonderland amusement park, Royal Ontario Museum and the nearby Niagara Falls are definitely worth a visit.
Toronto is also home to Brussels Airlines' Star Alliance partner Air Canada which enables travelling from Toronto to numerous other destinations in Canada including Halifax, Ottawa, Edmonton, Quebec, Montreal Metropolitan and Vancouver. Moreover, seamless connections to the United States are also possible via Toronto
Frequency increase
In order to enable the launch of Toronto, Brussels Airlines adds a 9th Airbus A330 to its fleet at the end of March. The flight offer to some existing intercontinental destinations will also be extended during the summer:
Washington (US)                6 flights / week (+ 1 freq.)
Kigali (Rwanda)                  6 flights / week (+ 1 freq.)
Entebbe (Uganda)               5 flights / week (+ 1 freq.)
Innovations and further growth in Europe
Brussels Airlines' European flight offer includes no less than 8 new destinations.
Belfast, besides being a fascinating city trip destination, is also the gateway to the beautiful landscapes of Northern Ireland. It is the first time Belfast is added to the Star Alliance network. With Jerez de la Frontera, Brussels Airlines adds the Costa de la Luz region to the network and with Tenerife and Las Palmas, the airline gives access to the most popular Canary Islands. Brussels Airlines also starts flights to Bavaria in Germany thanks to the opening of the second largest city Nuremberg, which is also perfect for city trips. The flight offer to France is enlarged with the addition of the coastal city of Nantes (Loire Valley region).
Finally, Heraklion (Crete) and Thessaloniki,two very popular Greek destinations, are added to the network for the first time.
New destinations in 2016
Belfast / Northern Ireland              5 flights / week
Jerez / Andalusia                         2 flights / week
Las Palmas / Canary Islands          2 flights / week
Tenerife / Canary Islands              2 flights / week
Nuremberg / Germany                  6 flights / week
Nantes / France                           12 flights / week
Heraklion / Crete                         2 flights / week
Thessaloniki / Greece mainland       2 flights / week
Fleet renewal
4 AVRO RJ100 aircraft which are currently used for regional flights will be replaced by three Airbus A319 and two Airbus A320.
Thanks to the Airbus A319 aircraft, with a capacity of 141 seats, the seat offer increases by almost 50 percent. Several destinations currently operated with A319 aircraft will gradually be upgraded to Airbus A320 during the summer season.  The seating capacity will therefore significantly increase to numerous destinations:
Increased seat offer during summer 2016
Gothenburg
Toulouse
Marseille
London Heathrow
Barcelona
Faro
Increased flight frequencies: 
Lisbon   -    10 flights / week (+ 3 freq.)
Porto   -    13 flights / week (+ 6 freq.)
Malaga   -    15 flights / week (+1 freq.)
Alicante   -    4 flights / week (+ 1 freq.)
Billund   -    16 flights / week (+ 4 freq.)
Edinburgh   -    17 flights / week (+ 4 freq.)
Manchester   -    24 flights / week (+ 5 freq.)
Venice   -    20 flights / week + (1 freq.)
Vilnius   -    6 flights / week + (1 freq.)
Lufthansa Group member airlines serve 316 destinations in 101 countries in 2016 summer schedules; numerous new and additional services for the benefit of air travelers
The airlines of the Lufthansa Group – Austrian Airlines, Brussels Airlines, Eurowings, Lufthansa and SWISS – will be even more attractive this summer for business and leisure travelers alike. And, as always, customers can be assured of the top-notch service, the high quality and the reliability of the Lufthansa Group.
In the coming 2016 summer schedules, which enter into effect on 27 March, the airlines of the Lufthansa Group will offer one of the most comprehensive networks of air services in the world, with over 23,140 weekly flights. Via their Frankfurt, Munich, Zurich, Vienna and Brussels hubs, and also with numerous point-to-point connections, the Group's airlines will serve 316 destinations in 101 countries (compared to 321 destinations in 103 countries in Summer 2015).  
This vast range of services will be further supplemented by over 18,000 codeshare flights offered in collaboration with some 30 partner airlines to provide Lufthansa Group customers with a virtually worldwide air travel network. The 2016 summer schedules of all the member airlines of the Lufthansa Group are valid from Sunday 27 March to Saturday 29 October.