Brussels Airlines launches new website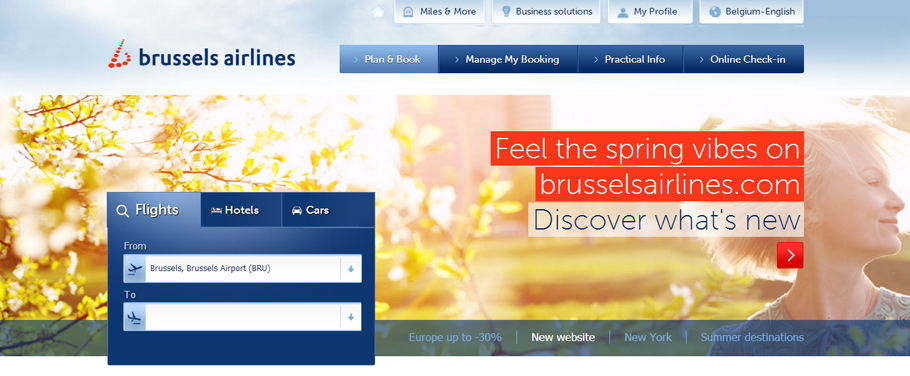 2014 marks a year of innovation for Brussels Airlines. The airline invests in its digital channels this year in order to offer the best online experience to its customers, starting today with the launch of a new website.
Today, Brussels Airlines launches the first of several digital improvements to further improve its customer experience. The entirely revamped brusselsairlines.com is designed for simplicity and easy access to information and online services. Thanks to smoother navigation, visitors can now easily find all the travel information they need. Visitors who are still looking for travel inspiration can look for destination tips and can see all flight promotions at a glance. Novelties include a weather forecast for the next seven days on destination pages, as well as extensive information about the destinations and local airports, all in one place.

The renewed website marks the first step in a series of improvements to Brussels Airlines' digital platforms. Later this year a new flight booking engine will be implemented on their website, which will help customers to easily choose the offer that best suits their needs. The airline is also working on the development of a mobile app, to offer easy access to flight booking and check-in and all travel related information while on the go.
"We are happy to unveil our new website, designed to offer transparent information to our guests as well as direct access to all our services before, during and after their travel experience with Brussels Airlines. We look forward to bringing more functionalities to our digital platforms in order to make our guests' journey with Brussels Airlines a great travel experience."
-- Lars Redeligx, Brussels Airlines Chief Commercial Officer.

Next to the website, Brussels Airlines already has a strong presence on Facebook and Twitter since 2010. On these channels passengers can reach out to the airline while they're on the go. Lars Redeligx emphasized Brussels Airlines' ambitions in this area:
"Our social media team strives to offer the best possible digital service by responding to customers within 1 hour, which makes it one of the fastest responding social customer services in Belgium. We want our guests to feel close to us, to be there for them on the channels where they're already present."