Brussels Airlines launches ​ unique lounge concept at Brussels Airport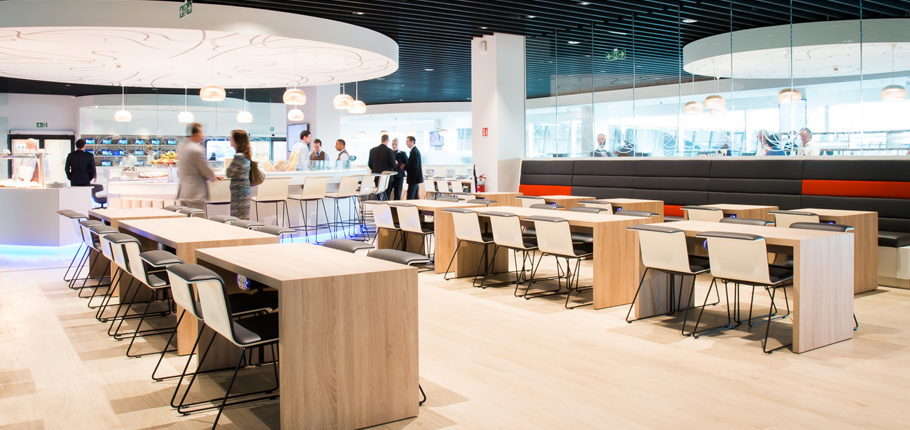 Today Brussels Airlines inaugurates "The Loft" at Brussels Airport, a new business lounge centered around comfort, technology, design and Belgian gastronomy. With this new lounge concept, for which Brussels Airlines has cooperated with top brands and designers, Brussels Airlines sets a new quality standard in hospitality.
After numerous investments in the in-flight product of its short- and long-haul flights, Brussels Airlines Chief Commercial Officer Lars Redeligx announced a new quality upgrade today, with the opening of 'The Loft', which is the new lounge for Business Class guests and frequent flyers, who depart from the Brussels Airport A Pier.
More than 300,000 guests visit the lounge each year; each of them spending an average of 74 minutes in the lounge. From now on they are welcomed in a lounge which is incomparable to any other lounge at Brussels Airport and which has been entirely designed based on feedback from and interviews with frequent flyers. The Loft is four times the size of the previous lounge and can host 300 travelers. The total surface of 1240m² is made up of eight different "hub", each with their own function.
Brussels Airlines has teamed up with Microsoft and Designit, Europe's largest Strategic Design and Innovation firm, to create a unique digital experience for The Loft. Thanks to the partnership, guests can borrow a Surface Pro 3 during their stay in the lounge. On the app, they have access to the Brussels Airlines digital lounge assistant app, 'Connected Lounge', which offers the possibility to book a shower room, see the availability of the nap boxes or book a meeting room. The app also keeps passengers informed about the status of their flight. Telenet offers its video on demand service Yelo for free on the Surface Pro 3, so passengers can enjoy movies and series while in the lounge. Those who prefer to use their own tablet can download the Connected Lounge app on their device.
The showers feature LED lighting and music that changes depending on the mood chosen when entering the bathroom. The nap boxes are comfortable beds where lounge visitors can rest between two flights. The meeting room and work stations are designed with furniture from Bulo. Frequent flyers with a HON Circle or Senator status can book a meeting room for themselves and their meeting partners.
Next to technology, service is a central theme in The Loft. The lounge hosts and "Maitre de Lounge" have followed a special butler training to assist passengers during their stay.
The absolute Belgian character of both Brussels Airlines and The Loft are reflected in the "living" zone, where the universe of Tintin is omnipresent. For the catering, prepared by Autogrill chefs, Brussels Airlines partnered with renowned Belgian brands. The beer offer at the Belgian Bar (Stella Artois, Hoegaarden, Leffe Brown and Blond) is provided by AB InBev, while JAVA is responsible for the coffee, Maredsous prepares the cheese. The offer is completed with extensive assortments of healthy breakfasts, salads, beer snacks and a whole range of freshly made quiches and meat. Furthermore lounge guests can enjoy, among others, authentic Belgian waffles, rice pudding, apple pie and chocolate mousse made with Callebaut chocolate.
"With The Loft we illustrate once more that the experience of our customers is at the heart of everything we do at Brussels Airlines. This unique lounge concept positions Brussels Airlines as a qualitative trend setter for a strenuous business audience, based on the best ingredients of Belgian hospitality and digital technology. We want to walk the talk, and showcase our new slogan "We go the extra smile", both on board as well as on the ground. Thanks to the talented people of Designit and our partnership with Microsoft, we didn't only create a fantastic physical space, but also a unique digital experience in The Loft."

-- Lars Redeligx, Brussels Airlines Chief Commercial Officer
"We are delighted to partner with Brussels Airlines to enhance The Loft visitors' digital experience thanks to Microsoft technologies. Our focus is all about Mobility and leveraging the Cloud to enable people to do more, from anywhere and on any device. This is a perfect fit with the needs of The Loft guests, and they will be able to experience it hands on with the Surface Pro 3 tablet, which is put at their disposal in The Loft. Guests can also take advantage of Microsoft ambassadors presence in The Loft to experiment new devices and services, and ask for advice to be more productive and make the most of their technologies at home or at work"

-- Jean-Benoit Van Bunnen, Windows & Surface Business Group Lead at Microsoft BeLux.
"The new lounge was designed with one purpose in mind: the Passenger. We did not see it as an architectural challenge, but as a Passenger Experience challenge. We combined architecture, interior design, digital technology and intelligent services into one, strong experience-driven, unique space. We wanted to challenge everything the industry knows today about lounges."

-- Guido Woska, Chief Client Officer at Designit, Europe's largest strategic design and innovation firm and himself a HON Circle member and frequent traveler.