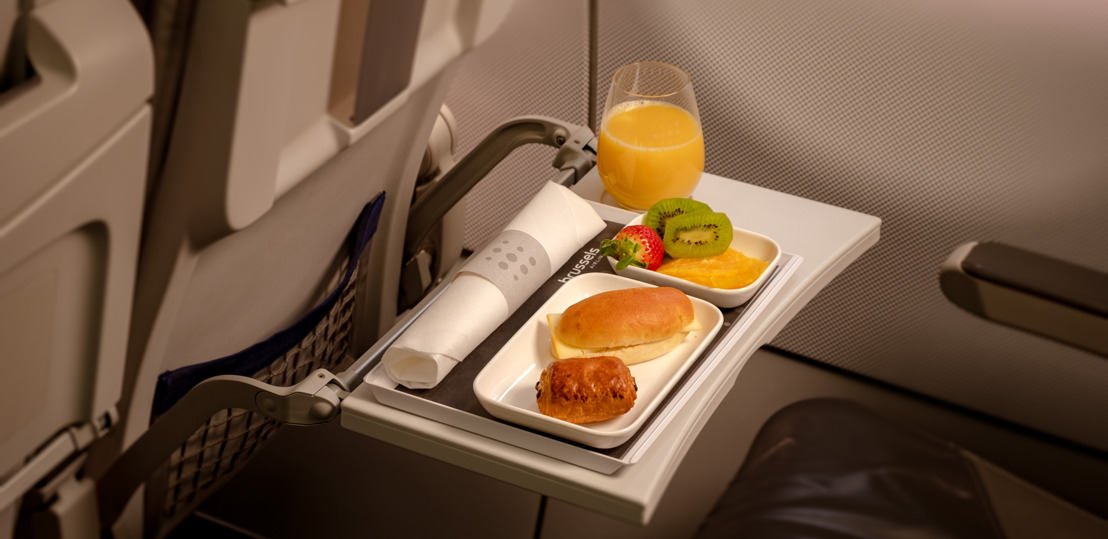 Brussels Airlines pampers Business Class travelers with culinary delights made in Belgium
Brussels, May 26th 2023 - Brussels Airlines is shifting up another gear in its catering offering, reemphasizing on its positioning as Belgium's home carrier. As of the month of June, Business Class passengers on short- and medium-haul flights will be presented with a renewed menu which will be different every week. The airline remains committed to products and dishes with a Belgian culinary touch. In addition, reusable porcelain and steel cutlery are making their comeback. Not only does the porcelain provide a pleasant experience, it's also more environmentally friendly.
Increasing numbers of travelers from Belgium and abroad are looking for even more comfort. This is also reflected in Brussels Airlines' reservations. In April 2023, the number of sold seats in Business Class even doubled, compared to the same period in 2019 (pre-COVID).
​Listening to its customers, the Brussels Airlines inflight catering product team developed a new concept for the Business Class catering on short- and medium-haul flights focusing on fresh food with more variation and products made in Belgium.
"From now on, our short- and medium-haul Business Class passengers will be presented with an improved qualitative menu, offering them more variety and providing them with an even more enjoyable in-flight experience when travelling on board of our flights. In addition, we increase our focus on fresh products with a Belgian culinary touch. Belgium being known for its high quality cuisine, it's important for us to share the Belgian culinary know-how with our international guests."
​- Xandra Quak, Inflight Product Manager, Brussels Airlines
As of June, the breakfast menu on flights below 80 minutes offers a fresh sandwich accompanied by a pain au chocolat or a croissant and fresh fruit. For early snackers, the classic fruit and cheese brochette gives way to Belgian tapas, with a finger food-sized sandwich or quiche, accompanied by a fresh salad and petit fours made with Belgian speculoos, cuberdon or chocolate. On flights above 80 minutes, passengers will be presented with a fresh seasonal salad, along with a dessert of macarons or Neuhaus chocolates. On flights over 2.5 hours, passengers can enjoy a hot meal with a dessert and fresh cheese. The meals will vary from week to week, providing the loyal frequent flyers with variation on their travels.
Reusable porcelain and cutlery
​With the new dishes comes a new way of presenting them. Brussels Airlines is reintroducing porcelain as well as steel cutlery in Business Class.
"Providing our passengers with porcelain dishes will elevate the presentation of the food and brings a more environmentally friendly solution. Reducing to a maximum extend the use of plastic remains a clear focus for us. As such, little yoghurt pots will disappear from the tray. Guests are presented with a fresh yoghurt in a porcelain bowl instead. We continuously work on reducing waste to further improve our ecological footprint."
​- Sandy Coenen, Inflight Product Manager, Brussels Airlines
In addition to the Business Class catering improvements, the Special Meal offer will also be enhanced as of June 1st. The inflight catering team has worked on aligning these Meals to the new Business Class concept, ensuring that guests with a specific diet (such as gluten-free) will also have the opportunity to enjoy a tasty meal with a Belgian touch.
Joëlle Neeb For media requests only