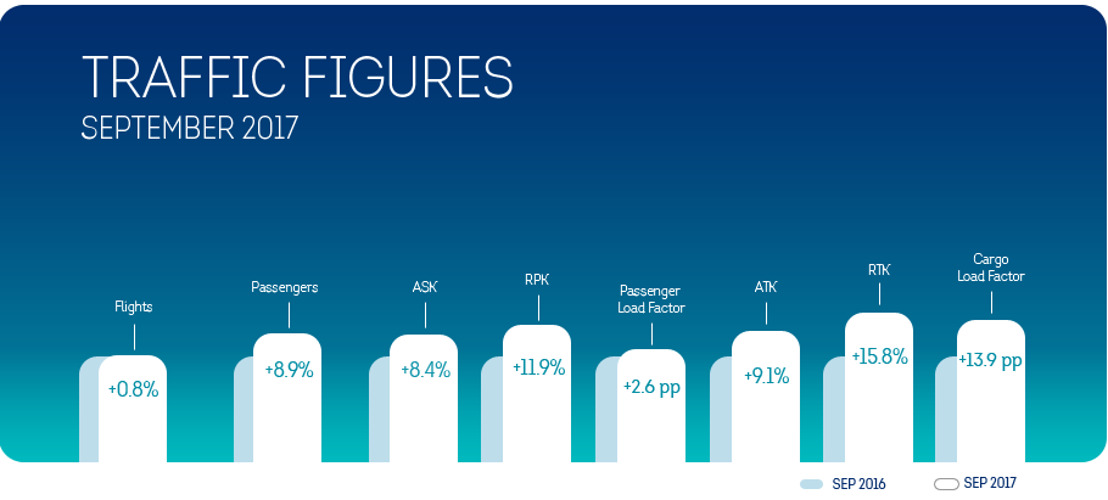 Brussels Airlines' passenger growth continues in September
Wednesday, October 11, 2017 — Brussels Airlines again recorded a passenger growth this September. Compared to the same period last year, 72,709 more passengers traveled with Brussels Airlines. The seat load factor increased to 82.5%.
September is traditionally a busy month for Brussels Airlines. On the one hand, business traffic picks up after the summer holiday, on the other hand, holiday destinations remain very popular for late summer vacations. In addition, a lot of expats returning home after a vacation in their home country, especially on board flights from or to Africa.
This resulted in a passenger growth of 8.9% over the past month. Noteworthy was the steady increase in the number of passengers that flew on European flights (+8.7%). The African network also contributed significantly to growth (+6%).
In total 886,617 passengers flew on a Brussels Airlines flight. The number of flights offered in September increased by 0.8% but the number of passengers grew faster, which led to an increase of the seat load factor, which amounted to 82.5%. It is the first time the seat load factor exceeded 80% in a September month.
The transported freight volume also grew. The cargo load factor increased by 13.9 percentage points and the Revenue Ton-Kilometers increased by 15.8%.
These statistics do not include the passengers on board of the many charter flights Brussels Airlines operates on behalf of tour operators.
Month
Month
difference in %
sep/17
sep/16
Flights
7,438
7,380
0.8%
Total Passengers
886,617
813,908
8.9%
-- Passengers Europe
742,691
683,498
8.7%
-- Passengers Africa
82,053
77,387
6.0%
-- Passengers North America
35,922
35,177
2.1%
-- Passengers Middle East
18,027
17,846
1.0%
-- Passengers Asia
7,924
/
/
Available seat-kilometers (ASK)
1,780,726,685
1,642,772,969
8.4%
Revenue Passenger-Kilometers (RPK)
1,469,565,089
1,312,715,898
11.9%
Passenger Load Factor (%)
82.5%
79.9%
2.6 pp.
Available Ton-Kilometers (ATK)
212,043
194,318
9.1%
Revenue Ton-Kilometers (RTK)
168,541
145,519
15.8%
Cargo Load Factor (%)
69.8%
55.9%
13.9 pp.
Figures based on preliminary data currently available