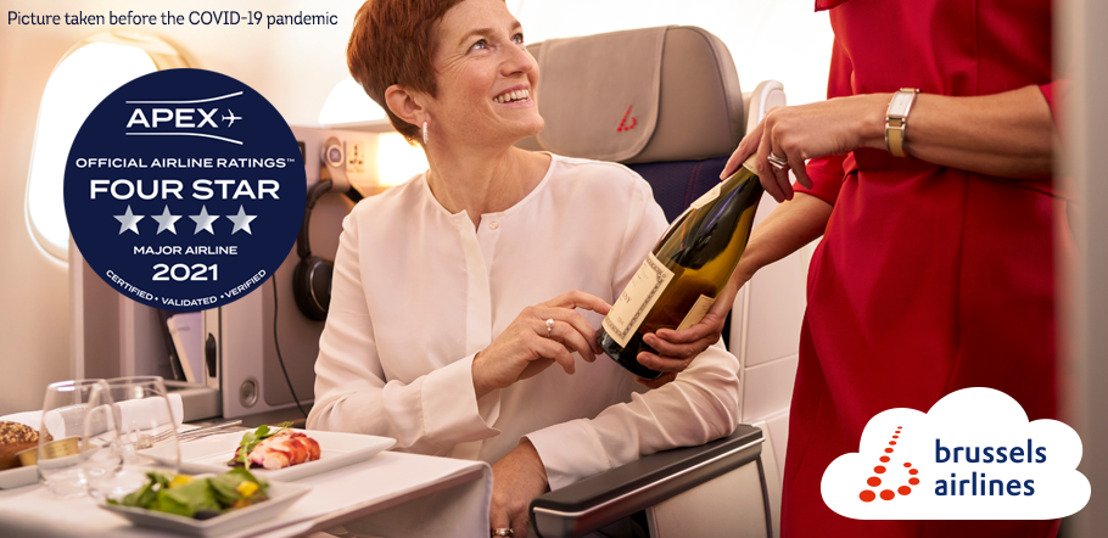 Brussels Airlines receives 2021 Four Star Rating by APEX
In a virtual award ceremony held by the Airline Passenger Experience Association (APEX) on Wednesday evening, Brussels Airlines received a Four-Star Major Airline Rating for 2021. The APEX Official Airline Rating is based on passenger feedback and insights gathered through APEX's partnership with TripIt.
APEX is a non-profit membership trade association dedicated to improving the entire airline passenger experience and awards four and five star airlines every year in four categories: global airlines, major airlines, regional airlines and low-cost carriers. Using a five-star scale, more than one million flights were rated by passengers across nearly 600 airlines from around the world between July 1, 2019 and June 30, 2020. First, passengers rated their overall flight experience from one to five stars. Then passengers were given the opportunity to provide anonymous ratings in five subcategories: seat comfort, cabin service, food and beverage, entertainment and Wi-Fi. As a result, Brussels Airlines was awarded a Four-Star Major Airline Rating for 2021.
"A four-star rating, especially from our passengers, is a true honor and a reward for the dedication of everyone at Brussels Airlines to offer outstanding service and products. Next to providing a very personal customer experience, we invested in a brand new boutique hotel experience on our intercontinental flights, along with the introduction of a Premium Economy Class, which is highly appreciated by our guests. This accolade is a testament to the high quality standard that we are able to provide and encourages us to further invest in our passenger experience, in line with our new company vision to be the most reliable airline, making everyone feel at home."
​- Tanguy Cartuyvels, Head of Customer Experience, Marketing and Product
More information on APEX ratings: https://apex.aero/awards/official-airline-ratings/
​
Kim Daenen For media requests only
Maaike Andries For media requests only