Brussels Airlines registered 9.2% passenger growth in June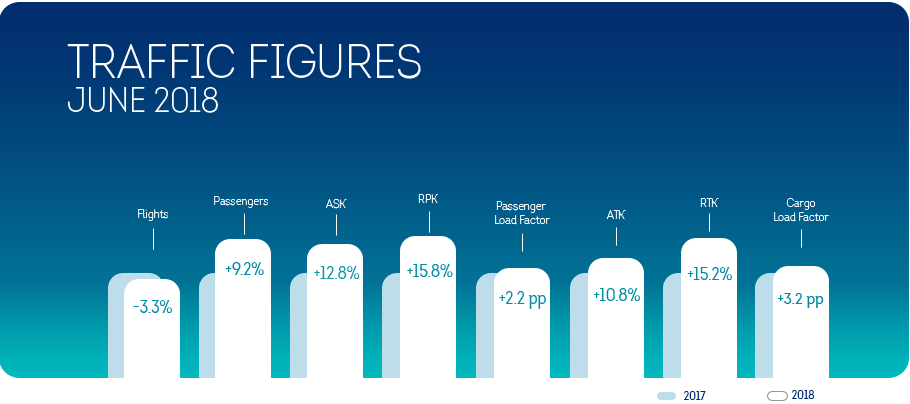 Compared to the same period last year, Brussels Airlines welcomed 78,467 more passengers in the month of June, representing a growth of 9.2%. The Seat Load Factor increased by 2.2 percentage points to a total of 81.8%.
Brussels Airlines registered the strongest passenger growth on the African network (25.2%), thanks to the addition of many new holiday destinations in North Africa in cooperation with Thomas Cook, Neckermann and Pegase. The number of passengers travelling on North American flights rose by 14.9%, mainly due to the addition of one weekly frequency to Washington D.C. (now a daily service). Compared to the same month last year, 7.6% more customers were registered on the European network. On the Middle Eastern flights, 2% more customers chose to fly Brussels Airlines. The number of people traveling with Brussels Airlines to Asia decreased by 5.6%, due to a lower flight offer.
Despite the decrease in operated flights (-3.3%), the Available Seat-Kilometers (ASK) increased by 12.8%, due to the replacement of AVRO jets (100 seats) by bigger Airbus aircraft (180 seats). The Seat Load Factor climbed from 79.7% in June last year to 81.8% in June 2018 (+2.2pp.). Thanks to its increased offer, Brussels Airlines was able to continue offering competitive fares and attract even more customers. This means, however, that the pressure on the ticket prices remains very high.
The Cargo Load Factor increased by 3.2 percentage points to an average of 68.4%, while the Revenue Ton-Kilometers (RTK) grew by 15.2%. The transported cargo volume amounted to 4,458 tons.
These statistics do not include the passengers on board of the many charter flights Brussels Airlines operates on behalf of tour operators.
| | | | |
| --- | --- | --- | --- |
| | June 2018 | June 2017 | Difference in % |
| Flights | 7,278 | 7,523 | -3.3% |
| Total Passengers | 926,901 | 848,434 | 9.2% |
| -- Passengers Europe | 761,008 | 707,380 | 7.6% |
| -- Passengers Africa | 98,829 | 78,937 | 25.2% |
| -- Passengers North America | 39,484 | 34,351 | 14.9% |
| -- Passengers Middle East | 18,406 | 18,044 | 2.0% |
| -- Passengers Asia | 9,174 | 9,722 | -5.6% |
| Available seat-kilometers (ASK) | 2,000,016,427 | 1,773,088,609 | 12.8% |
| Revenue Passenger-Kilometers (RPK) | 1,636,620,045 | 1,412,761,032 | 15.8% |
| Passenger Load Factor (%) | 81.8% | 79.7% | 2.2 pp. |
| Available Ton-Kilometers (ATK) | 234,064 | 211,300 | 10.8% |
| Revenue Ton-Kilometers (RTK) | 187,472 | 162,707 | 15.2% |
| Cargo Load Factor (%) | 68.4% | 65.2% | 3.2 pp. |
These results are based on figures currently available