Brussels Airlines registers 9.8% passenger growth in November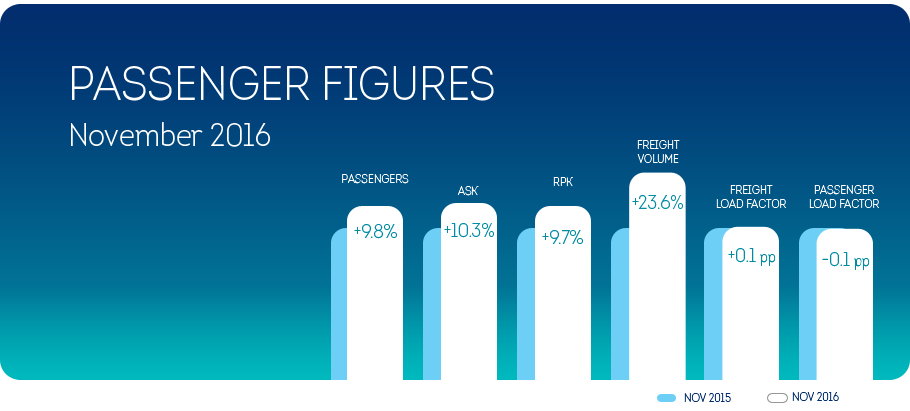 In the month November 608,095 passengers traveled on a Brussels Airlines flight; which is 54,088 or 9.8% more than the same period last year.
November is the first month of the aviation winter timetable and represented a strong passenger growth for Brussels Airlines. The increase is in part due to the airline's commercial success but is also due to the lockdown in Brussels last year, when less passengers traveled to the European capital.
On the European network, the airline registered a 10.8% growth, while the North American flights attracted 40.8% more passengers (mainly due to the addition of Toronto as a destination, which was not in the network in November last year). On the African network, the passenger numbers dropped slightly by 3%.
The overall seat load factor remained stable at 71.5%.
November was also a strong month for Brussels Airlines' freight activity. The total transported freight volume increased by 23.6%.
In addition to its scheduled flight activity, Brussels Airlines operates many holiday and group flights for tour operators. Passenger figures for this activity are not included in the figures of this press release.
November

November

year/year difference in %

2016

2015

Passengers

608.095

554.007

+9,8%

Available seat-kilometres (in millions)

1279,47

1160,20

+10,3%

Revenue Passenger-kilometres (in millions)

917,10

835,65

+9,7%

Freight tonnage

2829

2289

+23,6%

Freight Load Factor

69,1%

69,0%

+0,1p,p,

Passenger Load Factor

71,5%

71,7%

-0,1p,p,