Brussels Airlines registers a 12 percent passenger growth in first semester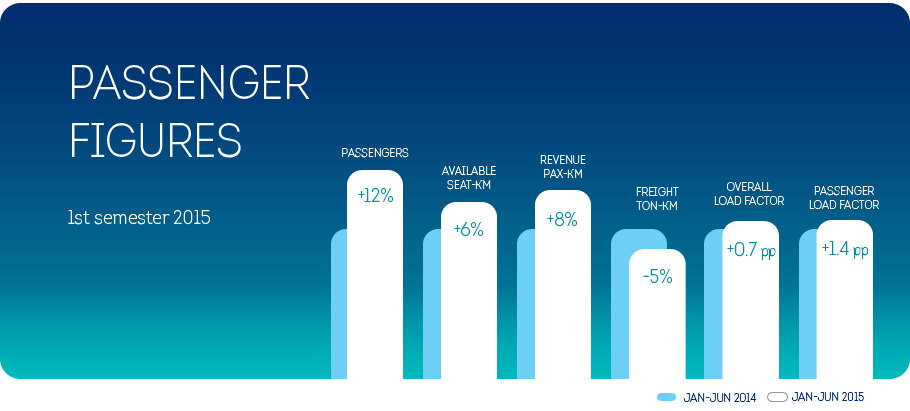 During the first semester of 2015, twelve percent more passengers flew on a Brussels Airlines flight, compared to the same period in 2014. This result makes Brussels Airlines one of the fastest growing airlines in Europe.
In the period January-June 2015, 3.46 million passengers used a Brussels Airlines flight, which is 374,652 more than the same period last year. The seat load factor grew by 1.4 percentage points.
This strong performance is mainly driven by the competitive pricing strategy Brussels Airlines has implemented alongside the introduction of four new travel formulas and which has led to significant passenger increase.
Last spring the airline also expanded its network with new leisure destinations like Billund, Bordeaux, Calvi, Dubrovnik, Lourdes, Olbia, Riga and St Petersburg, which has also contributed to the passenger growth.
According to preliminary market indicators, Brussels Airlines was one of the fastest growing European airlines during the first semester of 2015. During the month of June, the number of passengers increased by 14% and a record seat load factor of 75.3% was achieved.
"The competitive pricing we have introduced has had the desired effect in the market", says Brussels Airlines CEO Bernard Gustin. "The increasing number of guests we welcome on board our flights each day is a clear illustration hereof. With our new Check&Go, Light&Relax, Flex&Fast and Bizz&Class products, we now have an attractive formula for every budget."
In addition to its scheduled flight activity, Brussels Airlines operated many holiday flights for tour operators, meeting and incentive agencies and sports clubs. Passenger figures for these charter activities are not included in the monthly figures of this press release.

| | | | |
| --- | --- | --- | --- |
| | Jan-Jun 2015 | Jan-Jun 2014 | Semester/semester difference in % |
| Passengers | 3.466.010 | 3.091.358 | + 12.0 |
| Available seat-kilometres (in millions) | 7.735.367 | 7.328.971 | + 6.0 |
| Revenue Passenger-kilometres (in millions) | 5.443.156 | 5.055.730 | + 8.0 |
| Freight ton-kilometres (in millions) | 96,155 | 101,521 | -5 |
| Overall Loadfactor (Passengers & Freight) | 61.6% | 60.9% | +0.7 pct points |
| Passenger Load Factor (PLF) | 70.4% | 69.0% | +1.4 pct points |
June

2015

June

2014

Month/month difference in %

Passengers

700,703

614,800

+ 14.0

Available seat-kilometres (in millions)

1,475.05

1,358.06

+ 8.6

Revenue Passenger-kilometres (in millions)

1,111.20

1,004.11

+ 10.7

Freight ton-kilometres (in millions)

16,226

17,575

- 7.7

Overall Loadfactor (Passengers & Freight)

64.6%

64.2%

+ 0.4 pct. points

Passenger Load Factor (PLF)

75.3%

73.9%

+ 1.4 pct. points