Brussels Airlines registers passenger growth in September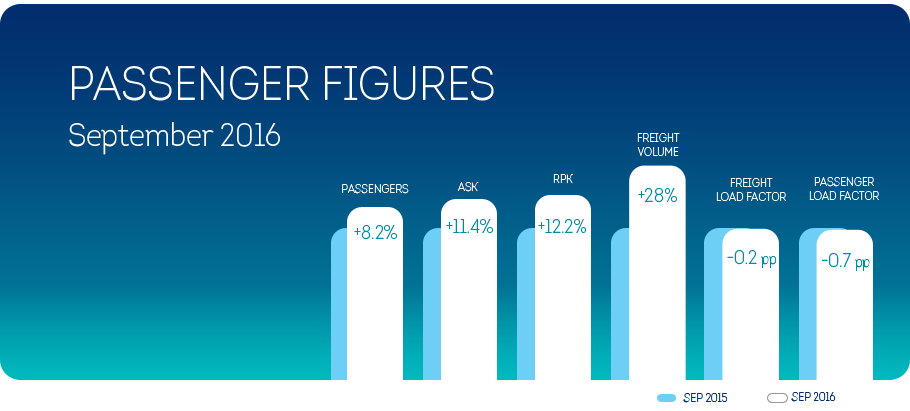 In September, Brussels Airlines continued to grow. The number of passengers that travelled on a Brussels Airlines flight increased by 8.2% compared to last year. The seat load factor remained stable.
In September, the first month after the summer holidays, 813,982 passengers chose to fly with Brussels Airlines, or 61,593 more than September 2015 (+8.2%).
Both the European flights, as well as the intercontinental network attracted more customers, but the growth was mainly registered on connecting flights via Brussels. The number of passengers travelling to Belgium as final destination is still not back to the same level as before the events of 22 March.
In Europe, the growth was noted on both business routes as well as destinations with a more leisure profile, like cities in Spain, Portugal, Greece and Italy.
The seat load factor remained stable at 80.2%, in line with the increased number of seats Brussels Airlines offered on the market.
Despite a highly competitive environment and a decreasing market, these results confirm the success of Brussels Airlines' new business model which offers passengers a large network of business and leisure destinations, as well as several fare options that attract both price sensitive customers as well as travelers looking for a high level of service.
The cargo volume increased by 28% compared to September 2015 and amounted to 2730 tons. The growth is mainly due to an increase in cargo flows from Europe to Africa and North America. The cargo load factor remained stable.
In addition to its scheduled flight activity, Brussels Airlines operates many holiday and group flights for tour operators. Passenger figures for this activity are not included in the figures of this press release.
September

September

Year/year difference in %

2016

2015

Passengers

813,982

752,389

+8.2%

Available seat-kilometres (in millions)

1,642.77

1,474.7

+11.4%

Revenue Passenger-kilometres (in millions)

1,312.33

1,169.54

+12.2%

Freight tonnage

2730

2,132

+28%

Freight Load Factor

55.4%

55.6%

-0.2 pt

Passenger Load Factor

80.2%

80.9%

-0.7 pt
Figures based on results currently available