Brussels Airlines welcomes 19.1% more passengers in August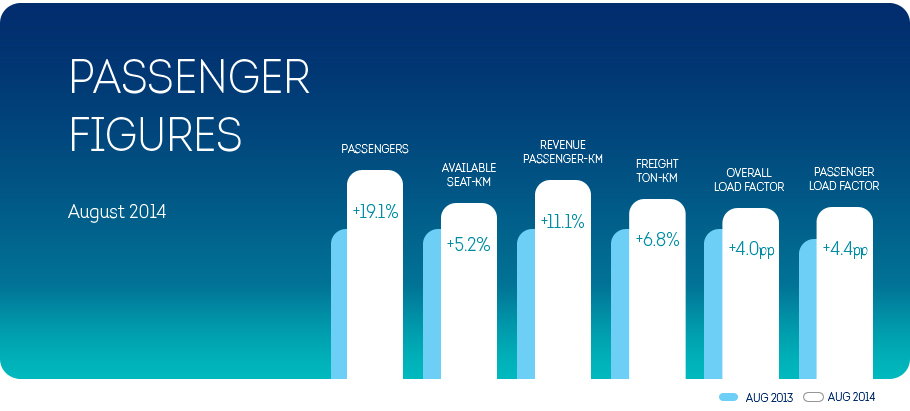 Brussels Airlines registered a very strong passenger growth of 19.1% during the month of August. In total, the airline welcomed over 100,000 passengers more compared to the same month last year. The seat load factor rose by 4.4 percentage points to 81.5%.
A total of 622,845 passengers opted for a European or intercontinental Brussels Airlines flight last month. That's 100,055 more passengers than in August 2013. The strong growth is due to the expansion of the flight offer to Mediterranean summer destinations, the highly competitive ticket fares and the increase in the number of connecting passengers (intra-European and European-intercontinental). With this increase, Brussels Airlines follows the general growth trend registered by Brussels Airport.
Out of the 622,845 passengers, 520,422 flew to short or medium-haul destinations and 102,423 boarded a flight to or from the US or Africa.
The growth trend, which Brussels Airlnes has continuously registered since the beginning of the year, has also led to a higher overall seat load factor. The passenger load factor grew by 4.4 percentage points to 81.5%, a record in the history of the airline.
In addition to its scheduled flight activity, Brussels Airlines operated many holiday flights for tour operators, meeting and incentive agencies and sports clubs. The most important event last month was without a doubt Red Devils flight 'SN2014'. Passenger figures for these charter activities are not included in the monthly figures of this press release.
August

2014

August

2013

Month/month difference in %

Passengers

622,845

522,790

+ 19.1

Available seat-kilometres (in millions

1367.43

1300.17

+ 5.2

Revenue Passenger-kilometres (in millions)

1114.71

1003.19

+ 11.1

Freight ton-kilometres (x1,000)

14,752

13,812

+ 6.8

Overall Loadfactor (Passengers & Freight)

68.1%

64.1%

+ 4.0 pct point

Passenger Load Factor PLF

81.5%

77.1%

+ 4.4 pct point