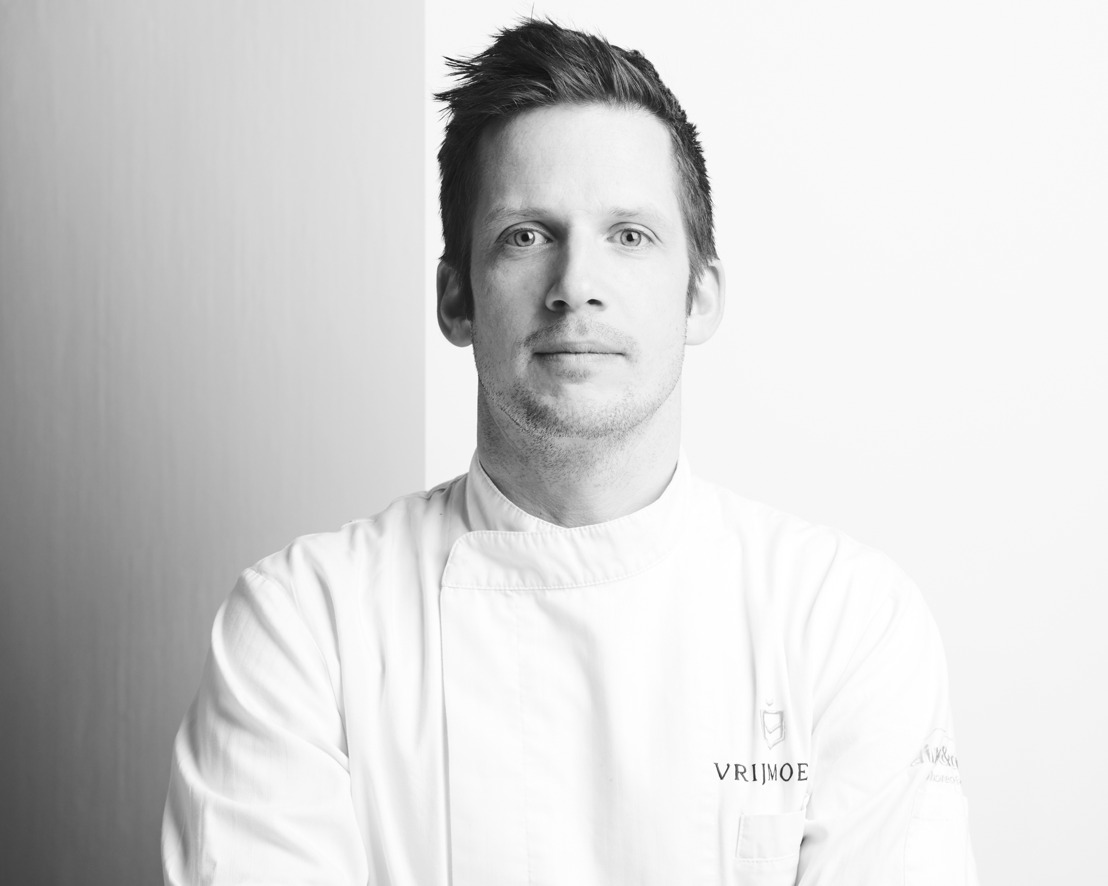 Brussels Airlines welcomes Belgian two-star chef Michaël Vrijmoed on board
Airline serves Business Class travelers on long-haul flights Ghent Michelin starred menu starring Belgian vegetables
Brussels, September 4th, 2023 - From 1 October 2023, Business Class travelers on Brussels Airlines' long-haul flights will enjoy a gastronomic experience by Michelin-starred chef Michaël Vrijmoed of the eponymous Ghent restaurant Vrijmoed**. Vrijmoed thus becomes the fourteenth Michelin-starred chef in a string of Belgian top chefs, with whom the airline has been delighting its passengers with exquisite cuisine since 2013. Belgian vegetables will take center stage in the gourmet menus in the coming year. At Brussels Airlines, the East Flanders two-star chef succeeds chef Mario Elias.
What started ten years ago with gourmet menus by Michelin-starred chef Geert Van Hecke has grown into a true tradition for travelers on intercontinental flights with Brussels Airlines in 2023. Every year, a Belgian Star Chef creates a three-course menu based on typically Belgian recipes and ingredients. From October, these menus will be created by Michelin-starred chef Michaël Vrijmoed and rotate every three months. As in previous years, the accompanying Belgian wines are carefully selected by Master of Wine, Jan De Clercq and beer sommelier Sofie Vanrafelghem selected the Belgian, local beers.
"As a Michelin-starred chef, it is a privilege to be allowed to cook for the business class travelers of Brussels Airlines. I am following in the footsteps of Peter Goossens, one of my tutors. He served as a star chef for the airline in 2015. Through my creations for Brussels Airlines, I will introduce the world amongst others to tasty Belgian vegetables, accompanied by some East Flemish regional beers and cheeses from cheese refiner Van Tricht."
​- Michaël Vrijmoed, chef of the East Flemish restaurant Vrijmoed**
Second East Flanders Star Chef
​Vrijmoed began his culinary career as a sous-chef at Hof van Cleve where he was the right-hand man to top chef Peter Goossens. In 2013, he started his own restaurant in Ghent. In recent years, it grew into one of the best vegetable restaurants in the world. After Peter Goossens, Michaël Vrijmoed is the second East Flanders chef with whom Brussels Airlines collaborates.
"Brussels Airlines is the flying ambassador of the best Belgium has to offer. As an airline, we introduce the world to delicacies originating from our country. We are happy that with Michaël Vrijmoed we can again put our local products and recipes in the spotlight. Next to the food, our passengers also discover regional beers such as Steenuilke, Liefmans Goudenband and Adriaen Brouwer Oaked. All three are brewed by traditional Belgian breweries such as De Ryck, Liefmans and Roman."
​- Philip Mortier, Inflight Product Manager, Brussels Airlines
Leading role for Belgian vegetables
​The fact that restaurant Vrijmoed is one of the best vegetable restaurants in the world is also reflected in the menus that Michaël Vrijmoed has created for Brussels Airlines. Long-haul Business Class travelers will be able to choose a fish or meat dish or a vegetarian alternative for both the starter and main course.
​The menu will evolve every three months to make the most of seasonal produce.
"Passengers can choose from two starters, one of them being my signature dish: beetroot (with Doyenné du Comice pear, mustard seed and horseradish sauce). As a main course, we serve a celeriac variation (with soil-grown chicory and crispy Jerusalem artichoke) as a vegetarian choice. There is also a choice between Pheasant (with soil-grown chicory, wild mushrooms, cranberries, pearl onions, Jerusalem artichoke, fine champagne sauce and Jerusalem artichoke puree) or Eel in Green (with herb salad and chateau potatoes). To conclude, passengers can choose from a cheese platter with East Flanders classics like Belgian Wittekop or Biloete, two cheeses from East Flanders' Lotenhulle, or Hazelnut chocolate cake with a vanilla-coffee sauce for dessert."
​- Michaël Vrijmoed
Joëlle Neeb For media requests only