Further growth in November for Brussels Airlines (+10.9%)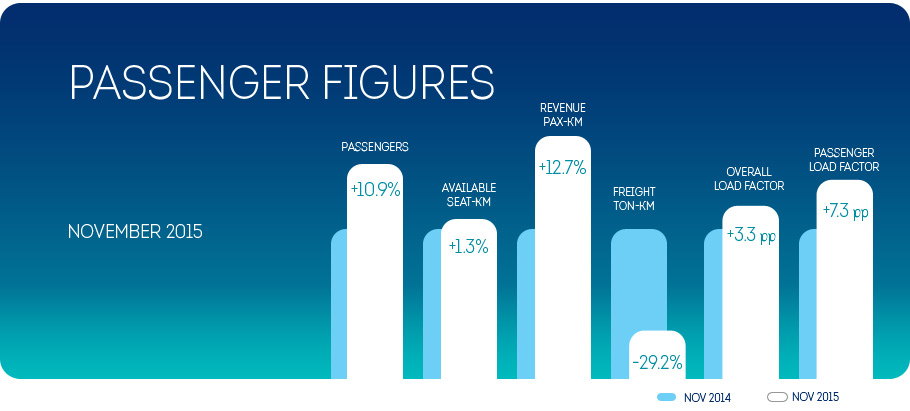 Brussels Airlines recorded a passenger growth of 10.9% this November and welcomed 53,655 passengers more than to November 2014.
November is the first season of the winter season in aviation. For Brussels Airlines this meant the first month with a new African destination: Accra. November was also marked by the temporarily increased threat level in Belgium, which caused many foreign passengers to change their travel plans to the European capital.
This slowed down the growth pace, but nevertheless Brussels Airlines recorded a passenger growth of 10.9%. European flights welcomed 9.4% more passengers, while the African network recorded a very strong growth of 25.3%.
The seat load factor increased by 7.3 pct points to 72%. In line with the overall European market trend, Brussels Airlines' cargo activity decreased.
In addition to its scheduled flight activity, Brussels Airlines operated many flights for tour operators and charter flights. Passenger figures for these charter activities are not included in the monthly figures of this press release.
November

2015

November

2014

Month/month
difference in %

Passengers

548,060

494,405

+ 10.9

Available seat-kilometres (in millions)

1,160.20

1,145.69

+ 1.3

Revenue Passenger-kilometres (in millions )

835.65

741.67

+ 12.7

Freight ton-kilometres (in millions )

10,713

15,126

- 29.2

Overall Loadfactor (Passengers & Freight)

60.7%

57.4%

+ 3.3 pct punt

Passenger Load Factor

72.0%

64.7%

+ 7.3 pct punt
Figures based on preliminary data currently available.