Most profitable summer ever for Brussels Airlines, very strong full year profit expected for 2023
Brussels Airlines is investing in passengers, product and people thanks to positive results
Brussels, November 2, 2023 - The third quarter of 2023 was the most profitable quarter in the history of Brussels Airlines. The Adjusted EBIT was EUR 72 million, this is a year-on-year improvement by EUR 21 million. Although some challenges occurred, such as the temporary closure of the Niger airspace and the increasing fuel prices, Brussels Airlines was able to keep costs under control. This brings the Adjusted EBIT for the first nine months of the year to EUR 59 million. The airline can now confidently state that a record-breaking profit is expected for the full year of 2023.
Between July and September, Brussels Airlines carried 2.4 million passengers on a total of almost 18,000 flights, with a seat-load factor of 85.2%. 91 destinations were served in 40 countries.
Lessons learned from summer 2022 resulted in smoother operations during the same period of 2023. However, there were still some unforeseen elements, such as the closure of the Niger airspace, that heavily impacted the operations to sub-Saharan Africa. Some flights needed to be cancelled, others had to make detours resulting in extra flight time and fuel consumption. Brussels Airlines estimates that the political situation in Niger will cost the airline around EUR 4 million. Other challenges were increased fuel prices and overall inflation.
Despite all the above, Brussels Airlines was able to keep costs under control. The Adjusted EBIT of the third quarter was EUR 72 million. This is an increase of 41% compared to summer 2022 which was already a record-breaking quarter for Brussels Airlines.
"I would like to thank the entire team for achieving this result. Thanks to the agility of everybody at Brussels Airlines we can present record results, despite some operational hurdles. I am really proud of all our colleagues for going the extra mile, making sure we could operate as a reliable airline." ​
​- Nina Öwerdieck, Chief Financial Officer, Brussels Airlines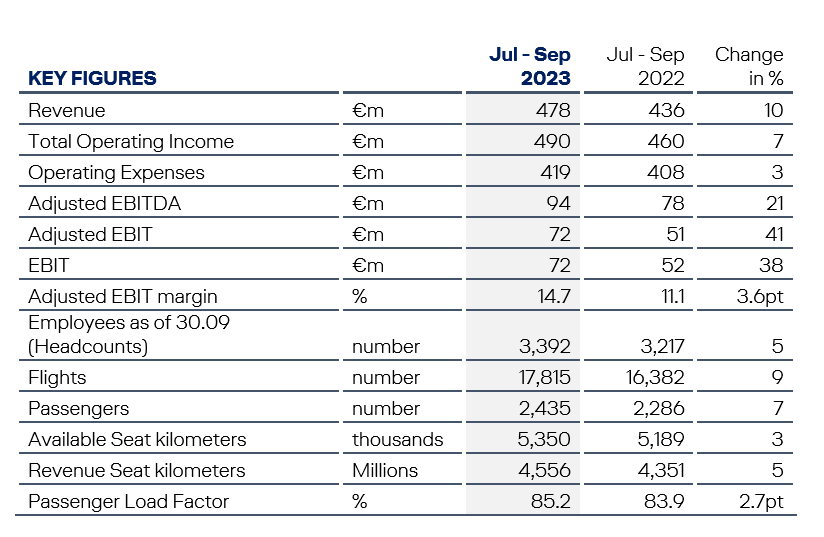 2023 will be a record-breaking year for Brussels Airlines
Although the year is not over yet and caution is still required, Brussels Airlines expects to achieve record-breaking full year results in 2023. The airline aims for the fourth quarter to be break-even, even if macroeconomic and geopolitical elements can still influence these results.
The overall capacity was still 15% below pre-covid levels. Strong profitability will allow the Belgian home carrier to continue closing this gap, with five brand-new A320neo aircraft1 and the tenth long-haul plane that will soon join the fleet.
"I am very pleased that Brussels Airlines has achieved this historic turnaround. A profitable and strong Brussels Airlines allows us to invest in our network, services for our customers and to be an attractive employer for today's and future employees. Our renewed Sunrise Lounge, extras on board of our flights, new uniforms and a new crew room are only a few examples. I am convinced we will continue our path towards sustained profitability."
​- Dorothea von Boxberg, Chief Executive Officer, Brussels Airlines
Brussels Airlines also expands its workforce to support its growth throughout all departments such as maintenance and engineering, IT, cockpit and cabin crew. The airline currently has about 240 open positions and expects to recruit around 360 new colleagues in 2024. In total, Brussels Airlines currently employs 3,392 people, an increase of more than 5% year-on-year.
1 Of which the first one was delivered on November 1st 2023 (press release)