Passenger growth at Brussels Airlines continues in November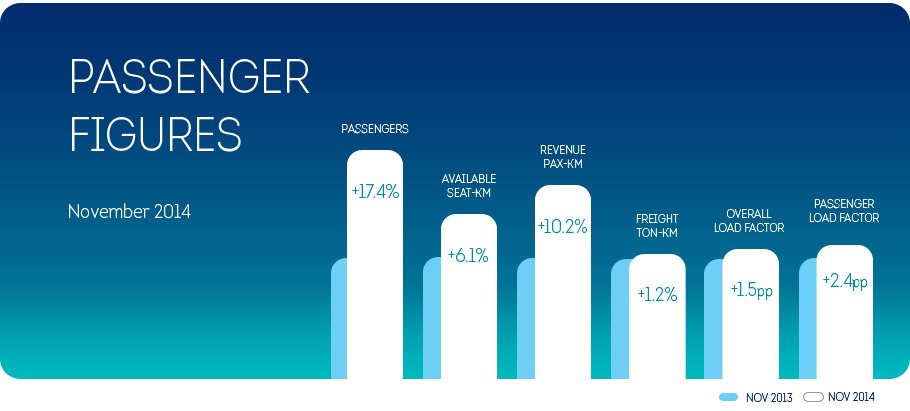 In November 494,405 passengers flew on a Brussels Airlines flight. That is an increase of 17.4 % compared to last year. The growth trend of last summer, which resulted in an increase of the passenger load factor, continued in November.
Brussels Airlines continues to record strong passenger results, which proves that the new travel options and competitive prices have been well received by the market.
In November 73,413 additional passengers opted for Brussels Airlines for either European or intercontinental flights. With a passenger growth of 17.4% Brussels Airlines exceeds market results. The passenger growth on European flights amounted to 21%. The passenger load factor increased to 64.7% in November (an increase of 2.4%).
Thanks to the steady increase of passengers, Brussels Airlines already exceeded its total number of passengers of 2013 (5.9 million) on 12 November.
In November, the first month of the IATA winter season, a new European destination, Riga, appeared for the first time in the flight schedule of Brussels Airlines. In addition, flight frequencies to several African destinations have been increased. Flights to Washington have been interrupted until spring 2015.
In addition to its scheduled flight activity, Brussels Airlines operated many holiday flights for tour operators, meeting and incentive agencies and sports clubs. Passenger figures for these charter activities are not included in the monthly figures of this press release.
November

2014

November

2013

Month/month difference in %

Passengers

494,405

420,992

+ 17.4

Available seat-kilometres (in millions)

1,145.69

1,079.65

+ 6.1

Revenue Passenger-kilometres (in millions)

741.67

672.95

+ 10.2

Freight ton-kilometres (in millions)

15,126

14,953

+ 1.2

Overall Loadfactor (Passengers & freight)

57.4%

55.9%

+1.5 pct point

Passenger Load Factor PLF

64.7%

62.3%

+2.4 pct point