Strong growth for Brussels Airlines in January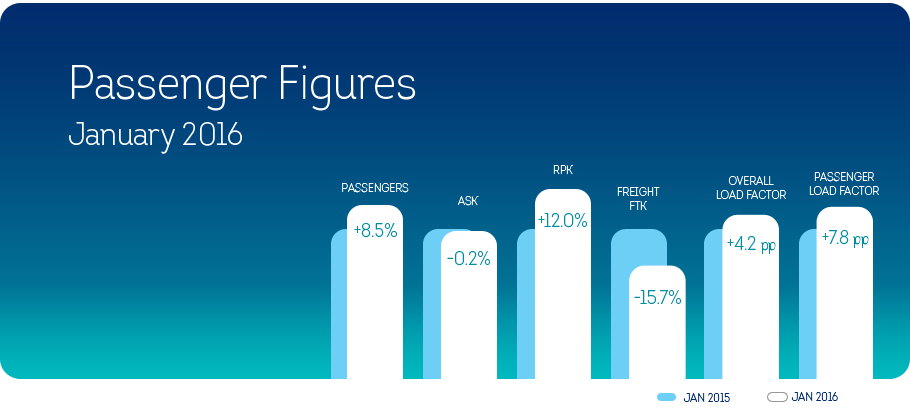 This January Brussels Airlines registered strong growth figures. The number of passengers rose by 8.5% and the load factor increased with 7.8 percentage points.
In January, 466,310 passengers travelled on a Brussels Airlines flight. That is 8.5% more compared to in January 2015. The number of passengers carried on European flights rose by 6.3%. On board the flights to and from Africa an increase of 22.4% was registered.
The significant growth also led to a strong increase of the load factor, which rose by 7.8 percentage points to 71.4%. The flights to Africa even reached a load factor of 78.6%.
Despite the growing freight activity in Europe and on the US network, Brussels Airlines globally carried less cargo in January. This is due to the reduced availability of cargo space on the African network as a result of the higher volume of passengers and weight restrictions on the flights.
In addition to its scheduled flight activity, Brussels Airlines operates many holiday and group flights for tour operators. Passenger figures for this activity are not included in the figures of this press release.
January

2016

January

2015

Year/year difference in %

Passengers

466,310

429,820

+ 8.5

Available seat-kilometres (m ASK)

1098,43

1100,74

- 0.2

Revenue Passenger-kilometres (m RPK)

783.96

699.69

+ 12.0

Freight ton-kilometres (m FTK)

11,363

13,481

- 15.7

Overall Load Factor (Passengers & Freight)

60.3%

56.1%

+ 4.2 pct. points

Passenger Load Factor (PLF)

71.4%

63.6%

+ 7.8 pct. points
Figures based on preliminary data currently available.