The Smurfs fly with Brussels Airlines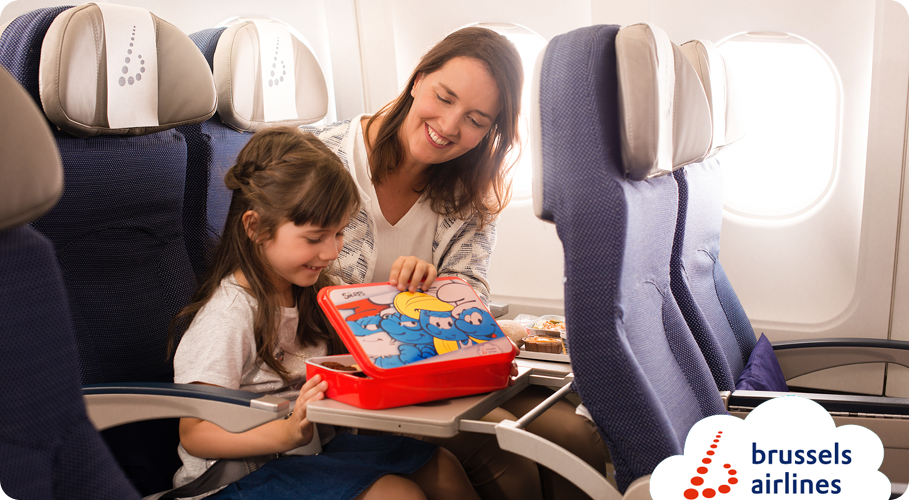 For over 50 years, they have been making children's hearts race. It was only logical that they can now also be found on board Brussels Airlines' flights, to surprise the growing number of children travelling with the airline. With The Smurfs, the airline adds another famous Belgian ambassador to its partners.
More than fifty years after Brussels-born comic artist Peyo brought them to life, the Smurfs remain popular all around the globe. The adventures of the more than 100 Smurf characters who live in the Smurf village and fight against the wizard Gargamel, have resulted in more than 40 comics, more than 400 cartoon series episodes and two 3D films.
From now on, the famous blue-skinned characters also fly on board Brussels Airlines' flights, as children who fly the Belgian airline to the States, Canada or Africa are all spoiled with a Smurf lunchbox with coloring books, memory games and finger puppets. The child meals that are served in these boxes (meatballs in tomato sauce, pasta,…) have been carefully selected after a tasting session where more than 60 kids gave their input. Children flying on the short haul network in Flex&Fast or Bizz&Class, receive a Smurf lunchbox on their flight out of Brussels.
Specially for Brussels Airlines, graphic studio IMPS, who exploits the rights of Peyo's work, created new Smurf characters: Captain Smurf and Cabin Crew Smurfette don the lunchboxes, as well as Safari Smurf who travels to Africa.
"The partnership with the Smurfs is a logical one for us, as we always aim to promote the best of Belgium. After Tintin, René Magritte, Belgian gastronomy, Belgian beers and Belgian chocolate, the Smurfs are another world renowned Belgian ambassador to come on board at Brussels Airlines."

-- Anne Tricot, VP Customer Experience at Brussels Airlines.
"We're very proud that our Smurf now travels around the globe on the planes of this beautiful Belgian company, Brussels Airlines. The Smurf is an excellent ambassador who carries the values of universality, respect and helpfulness. The Smurfs are without a doubt one of the best known Belgian brands worldwide, with hardly anyone knowing it's Belgian."

-- Véronique Culliford, daughter of cartoonist Peyo and founder and president of IMPS.
Brussels Airlines makes great efforts to make travelling with children as comfortable as possible. Last year, the airline launched b.family, a free travel package that includes a 20 percent discount for children (2-11y) and 90 percent discount for infants (-2y), 12 kilograms hand luggage per child, priority boarding and guaranteed seats together for the entire family, discount for airport parking, and more. For more information, go to brusselsairlines.com