Bremen: new destination for Brussels Airlines ​ and Brussels Airport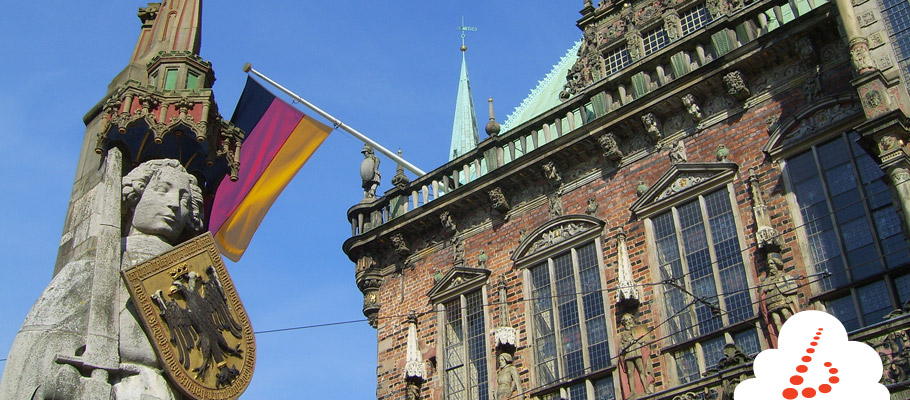 From 14 September onwards Brussels Airlines will operate five flights per week to Bremen. The major north German commercial city is so far not directly connected to Brussels Airport.
Good news for the many EU officials and businessmen who commute between Bremen and the European capital and hitherto had to connect via other European airports. Thanks to the new flights that Brussels Airlines will operate every weekday as from September, the Hanseatic city becomes directly accessible in 1 hour and 10 minutes.
Bremen, located in the heart of Lower Saxony on the banks of the Weser, boasts a rich history as a trading center. The beautiful old town has a 1,200 year long history and well worth visiting, from a cultural-historical point of view.
Also today Bremen and the nearby Bremerhaven still have a strong economy and are known for its high technology. Airbus has one of its main production centers in Bremen, several Mercedes-Benz models are produced here and the European space industry is well represented in the region, too. The famous Beck's beer is brewed in Bremen and also Jacob's coffee has its roots here.
Flight schedule
Starting 14 September, Brussels Airlines operates five evening flights per week between Bremen and Brussels:
| | | | | | |
| --- | --- | --- | --- | --- | --- |
| Flight Number | From | To | Departure | Arrival | Days |
| SN2597 | Brussels | Bremen | 21:00 | 22:10 | 12345.. |
| SN2596 | Bremen | Brussels | 19:00 | 20:10 | 12345.. |
Passengers have the choice between four different travel options: Bizz&Class, Flex&Fast, Light&Relax and Check&Go.
"We are very happy to add a region and a city to our network that maintains important trade relations with Belgium", says Brussels Airlines Chief Commercial Officer Lars Redeligx. "Bremen is a nice addition to the rapidly growing European network of Brussels Airlines and Brussels Airport. With this route we also target transfer passengers who want to connect smoothly to other Brussels Airlines destinations".
The flight schedule is adapted to fit many flight connections, including to Bristol, Toulouse and Madrid, in order to let Airbus Industries employees travel comfortably between the different production sites of the European aircraft manufacturer.
Jürgen Bula, CEO of Bremen Airport: "Especially businessmen from the Lower Saxony and Bremen region will profit from this new direct connection between Bremen and Brussels, but this flight is also perfect for a city trip"
After Hamburg and Hannover, Bremen is Brussels Airlines' third destination in north Germany. The airline also flies to Berlin five times per day. Thanks to a cooperation with Lufthansa and Germanwings, passengers can fly several times a day to Fankfurt, Munich and Stuttgart, so in total seven German destinations are offered by Brussels Airlines