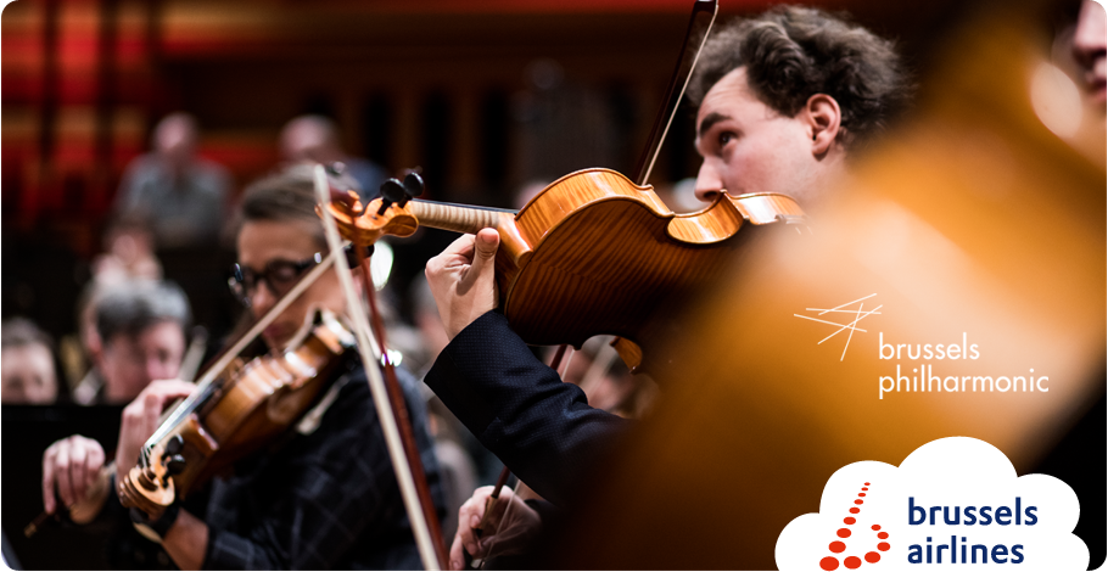 Brussels Airlines and Brussels Philharmonic: Start of a brand new partnership
Brussels Airlines and Brussels Philharmonic announce a new partnership that allows the orchestra to grasp more international opportunities and revolutionizes their touring pattern. The partnership is a first in the classical music market and makes way for international expansion and a more tailor-made repertoire.
Brussels Philharmonic is working on a strong international profile to become a leading orchestra in the global music scene and a proud classical music Ambassador of Belgium to the world. Therefore the Belgian orchestra constantly invests in its international touring activity and in high-profile visiting artists from all over the world. Brussels Philharmonic works with top-notch music director Stéphane Denève and has garnered critical acclaim for its recordings, including an Academy Award and a Diapason d'Or de l'année.
Traditional orchestra touring presents a set of particular challenges, making it a complex and costly operation. The brand new partnership between Brussels Philharmonic and Brussels Airlines paves the way for a revolution in touring activity: instead of travelling for a longer period from one venue to the other, the partnership consists of one-day returns to specific venues or festivals, with Brussels as a base. This 'touring 2.0' allows for a time- and cost-efficient approach, placing always at the forefront the artistic objective of both concert performer and concert organiser, and thus making it possible to offer a tailor-made and high quality project for each venue.
As it has built up a vast experience organizing flights for big events, Brussels Airlines can perfectly respond to the travel needs of Brussels Philharmonic. Since 2012 the airline is the official airline partner of Tomorrowland, organizing more than 250 party flights for almost 12,000 guests from around the world to the festival in Boom. Next to that, Brussels Airlines flies the Belgian national football team and its fans to their games for the World Championships and the European Championships, which requires complex forward planning, as it cannot interfere with the airline's daily flight operations.
"We are elated that we can again partner up with a great Belgian entity. We assist Brussels Philharmonic by offering them a tailor-made solution, flying in and out on the same day to perform, herewith supporting their international expansion and bringing innovation to the touring market. As proud ambassadors of our country, this fits perfectly with our aim to carry out the best of Belgium to the world.
​-- Christian Dumortier, Head of Strategic Partnerships Brussels Airlines
"This partnership brings a breath of fresh air to the traditional touring business as Brussels Airlines will become our official logistics partner. The 'one-day return' concept will lead to open in-depth discussion with venues or festivals in Europe on the repertoire and content of a project to be performed by the orchestra on a specific stage. Without compromising both artistic partners (orchestra and venue) will sharpen their identity. Once the programme is defined, Brussels Philharmonic will develop the project in Belgium and then bring it to the venue in the shortest possible time-frame (one day), served by a charter flight handled with care by Brussels Airlines. We are extremely happy to work with our national airline on this project and look forward to our cooperation."
​-- Gunther Broucke, Intendant Brussels Philharmonic.
Two major venues have already been booked, Edinburgh's Usher Hall and the iconic Elbphilharmonie in Hamburg. With the Elbphilharmonie, Brussels Philharmonic presents a large scale work for orchestra and chorus. Sister ensemble the Flemish Radio Choir joins Brussels Philharmonic for this traditionally non-itinerant production. Edinburgh will see the return of Brussels Philharmonic and Stéphane Denève, who has previously served as Music Director at the Royal Scottish National Orchestra.
Brussels Airlines will also take care of the travel needs of the orchestra's international artists flying to Belgium and will provide its passengers with the opportunity to discover the vast discography of Brussels Philharmonic via its in-flight music channel.
The shared journey of Brussels Airlines and Brussels Philharmonic will not be limited to the borders of Europe. On 7 March, Brussels Airlines will bring the orchestra to Toronto for the start of the Brussels Philharmonic North American Tour. Performing in Ottawa and Florida, the orchestra will end its tour in grandeur by debuting at Carnegie Hall, making it the first Belgian symphonic orchestra in 30 years to perform at the legendary venue. The partnership with Brussels Airlines will be celebrated at the closing event in New York on March 16, after which the musicians will travel back to Belgium.
About Brussels Philharmonic
The Brussels Philharmonic was founded in 1935 by the Belgian public broadcaster (NIR/INR). It performs both great classics as well as new compositions. As of 2015-2016, French conductor Stéphane Denève is the orchestra's music director. He has launched a new plaform, the Centre for Future Orchestral Repertoire, that collects core information about symphonic compositions since the year 2000. At the international level, the Brussels Philharmonic has made a name for itself, with regular appearances in the major European capital. International representation by IMG Touring brings further tours and concerts on new stages both in Europe and beyond (e.g. Japan, USA). Another speciality for which the Brussels Philharmonic has gained critical acclaim is film music. Recognition has come, among others, in the form of the Oscar-winning score for 'The Artist' (2011). The vast discography of Brussels Philharmonic (Deutsche Grammophon, Palazzetto Bru Zane, Klara, Film Fest Gent, Brussels Philharmonic Recordings) has received numerous awards, including an ECHO Klassik, Cecilia Prize, Choc de Classica de l'année and Diapason d'Or de l'année. The Brussels Philharmonic is an institution of the Flemish Community.
Maaike Andries For media requests only