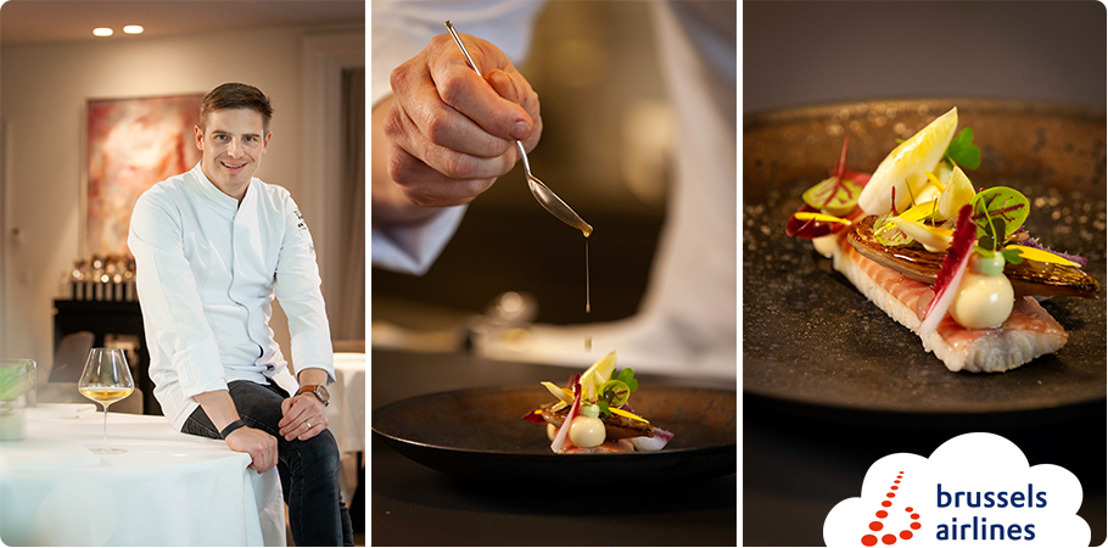 Brussels Airlines and chef Tim Boury join forces
Brussels Airlines starts a culinary collaboration with the Belgian chef Tim Boury of Restaurant Boury(**) in Roeselare. Throughout 2020, Tim, Chef of the Year 2017, will create a gastronomic experience for the Business Class customers of Brussels Airlines on its long-haul flights.
Brussels Airlines presents a new collaboration with a Belgian star chef to offer a high quality culinary experience onboard. Through its collaboration with Tim Boury, who received a score of 17.5/20 for 2020 in the gastronomic guide Gault & Millau, Brussels Airlines as ambassador of its country, wants to share the best of Belgium with the world.
"I took up the challenge of developing the same culinary vision as in my restaurant at an altitude of 10,000 metres. The taste of the dishes must be as identical as possible to that 'on ground', and the way in which they are prepared is very important. It was a highly challenging project, but I am confident that we managed to present four tasteful menus to Brussels Airlines customers from January 2020".
​
​Tim Boury, Head of Boury Restaurant
Together with his wife Inge Waeles, Tim Boury founded the restaurant Boury in Roeselare in 2010. The successful duo met in the kitchen of Comme chez Soi (former ***), where they were both working as Chef de Partie. Later Tim became the right hand and sous-chef of Sergio Herman in Oud Sluis*** and Inge worked together with chef Peter Goossens in Hof van Cleve***. One year after the opening, Boury restaurant weas already awarded a first Michelin star. In 2016, restaurant Boury moved to a new location in Roeselare where guests can now also spend the night in one of the guest rooms. After the move, Tim was elected by Gault & Millau as 'Chef of the Year 2017' and the team received a second Michelin star.
From 1 January, Tim Boury will succeed Thierry Theys from restaurant Nuance**, and will put together a new menu for Business Class customers on Brussels Airlines' intercontinental flights for each trimester in 2020. Using seasonal and regional products, Boury wants to serve the Belgian finesse at an altitude of ten kilometres. From January to March, Business Class customers travelling from Brussels to Africa or North America can expect an Old Farmdal Cream from Roeselare as an aperitif, followed by a brioche with smoked eel and chicory or softly cooked veal loin as entree. As a main course, Tim offers a choice of veal cheek with fondant potato, cauliflower and Brussels sprouts or anglerfish with pumpkin, vadouvan and wild rice or risotto with wild mushrooms. To close, guests have the choice between Van Tricht's selection of cheeses and Boury's dessert of white chocolate, banana and cassis.
"We continue to invest in the travel experience of our customers. Within the concept of our Boutique Hotel in the air that we launched earlier this year on our long-haul flights to the States and Africa, we want to offer a real restaurant experience to our Business Class customers. We are delighted to be able to serve a top-class Belgian culinary experience together with Tim. In addition, we continue to offer other Belgian products as usual, such as Belgian beers and wines and the Neuhaus chocolate, in order to promote the best of Belgium."
​
​Grégory Baillet, Head of Product at Brussels Airlines
In addition to his own dishes, Tim is also taking his own Flavas beer and LAVAS Gin to greater heights. Flavas beer is the first beer of Boury Bottled and was created based on the same flavours and ingredients from Tim's kitchen.