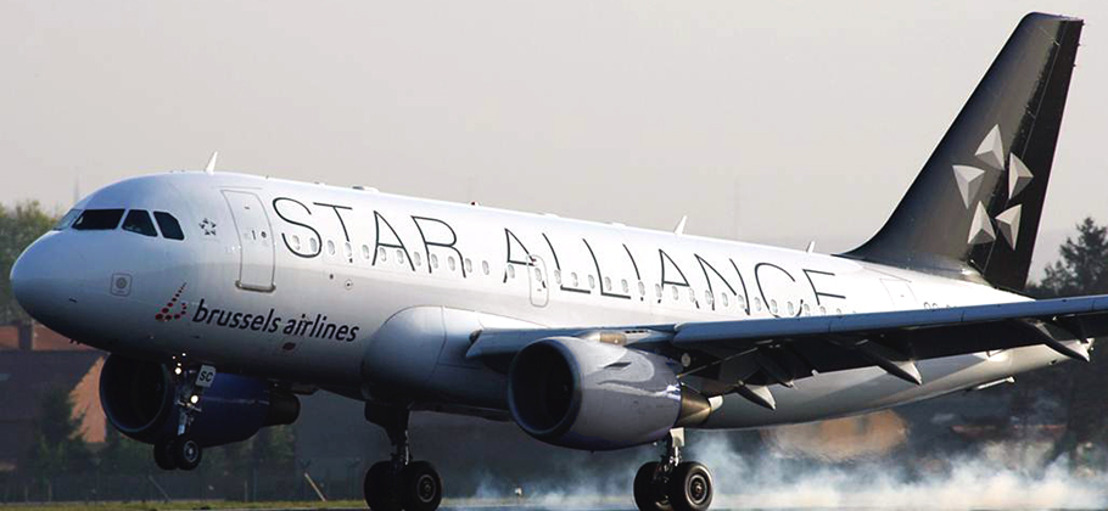 Brussels Airlines celebrates five years Star Alliance
Tuesday, December 9, 2014 — Exactly five years ago, on 9 December 2009, Brussels Airlines became member of Star Alliance, the world's largest global airline alliance . Thanks to its adherence, Brussels Airlines expanded its network with several new destinations and Brussels Airport became an important Star Alliance hub.
With an inaugural event in the Brussels townhouse, Brussels Airlines officially became a member of Star Alliance on 9 December 2009. The membership in the world's largest global airline alliance was not only considered an acknowledgement of quality and service for Brussels Airlines, but it was also a promise for many additional advantages for the passenger, including network expansion, an improvement of the loyalty program, access to airport lounges all over the world, new commercial products and services, to name a few. Five years later Brussels Airlines can look back and say it has delivered this promise.
The airline added many new destinations over the last five years, on its short haul network (Basel, London Heathrow, Edinburgh, Hannover, Vilnius, Riga, Dubrovnik, Krakow, St. Petersburg, Alicante, Malta, Milan Linate, Catania, Olbia, Bastia, Figari, Marrakech and Agadir) as well as on its long haul network (New York, Washington, Cotonou, Ouagadougou and Lome).
Since the entrance of Brussels Airlines in the Star Alliance, Brussels Airport has become a strategic hub. Several members of the alliance who before didn't offer flights from the European capital, have now launched scheduled flights out of Brussels Airport. Other airlines have increased their flight frequencies or have expanded connection possibilities with Brussels Airlines flights.
Thanks to the Star Alliance membership, Brussels Airlines has been able to add several European and intercontinental destinations to its flight offer, served by Star Alliance partners. These include Zurich, Frankfurt, Munich, Corfu, Rhodos, Heraklion, Ljubljana, Zagreb, Cairo, Chicago, Newark, Montreal and Bangkok.
At Brussels Airport, Brussels Airlines cooperates with Star Alliance partners Lufthansa, SWISS, Austrian, Adria, Aegean, Egyptair, TAP, United, Air Canada and Thai. These airlines have a flight schedule that connects smoothly with Brussels Airlines' European, African and US flights.
As a mascot of the Star Alliance membership, one of Brussels Airlines' Airbus A319 (OO-SSC) flies in a special Star Alliance livery since a few years. The aircraft is a favorite subject for airplane spotters.