Brussels Airlines kicks off its Premium Economy sales on long haul flights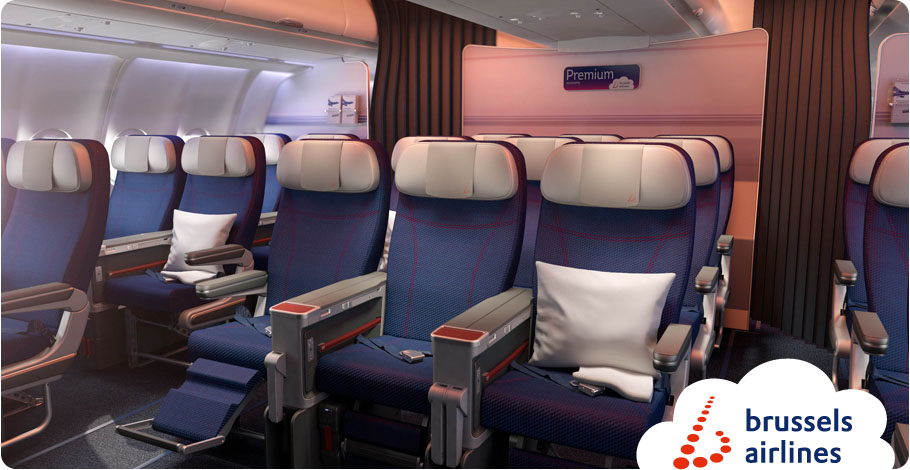 In February Brussels Airlines announced a new travel experience on board of its long-haul aircraft. With a completely new Business Class, Premium Economy and Economy Class the airline wants to recreate a boutique hotel feel at 30,000 feet. The first aircraft retrofitted with the new onboard experience has entered the fleet on 29 April, and the sales of the new Premium Economy Class has been opened for travel as of 1st of August.
With the introduction of its new long-haul travel experience, Brussels Airlines launches a brand new cabin. Premium Economy aims at catering for the needs of long haul customers who require superior travel comfort, without paying the price of a Business Class seat.
The new Premium Economy cabin is completely separated from the other classes, creating a quiet and relaxed environment with soft purple and blue colours. With only 21 seats, tranquility is one of the key features of the Premium Economy cabin. A premium seat with increased private space, comfortable cushioning and an expanded armrest allow to travel undisturbed. A 38" seat pitch (23% more legroom compared to Economy Class), a wider seat with a bigger headrest and a generous 40° seat recline allow for a relaxing sleep. Its warm and joyful design is a signature of the Brussels Airlines brand. The 13.3" HD screen is one of the largest HD Premium Economy screens in Europe. On top of that, a large table includes AC & USB power plugs so guests can stay productive throughout their flight.
As Premium Economy is an entirely new product for Brussels Airlines, the airline starts operating the new class as from the moment when 5 aircraft have been retrofitted, to ensure the availability of the cabin to its customers. Ticket sales for the Premium Economy Class has started for travel as of 1st of August 2019, first on its three North Atlantic routes, later this year also gradually on the African network. Until that time, Economy Class customers who are lucky enough to travel on a retrofitted aircraft have the chance to upgrade their ticket for only €90 and try out the brand new Premium Economy seat in premiere.
More information on brusselsairlines.com/premiumeconomy
​