Brussels Airlines launches five new destinations next summer
Brussels Airlines launches five new destinations next summer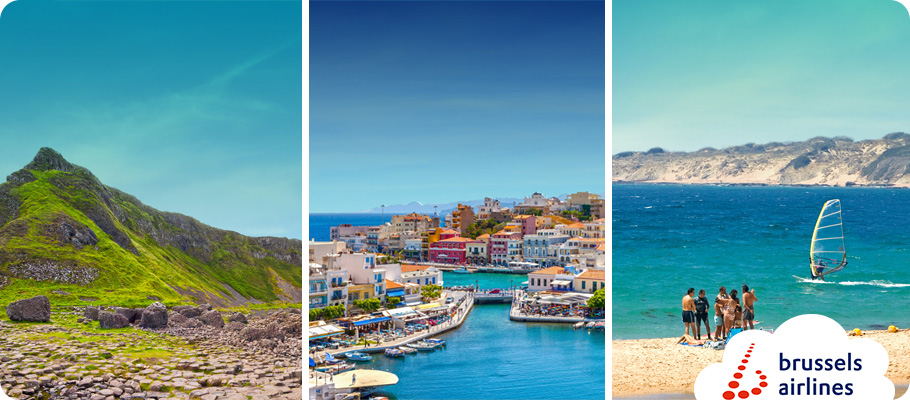 Brussels Airlines once again expands her flight offer during the summer of 2016. In the summer timetable announced later today no less than five new destinations will appear.
Although winter is coming up, the temperatures are already rising at Brussels Airlines. The company's strategy to include popular vacation regions in its flight offer continues in 2016.
Brussels Airlines adds five new destinations and many extra flight frequencies to existing destinations in the summer offer, which can already be booked as from tomorrow.
Tourist attractions such as the Greek Crete and the South Spanish Jerez are added to the summer offer. With Belfast Brussels Airlines also expands her network to Northern Ireland. Tenerife and Las Palmas / Gran Canaria – two routes that are launched this winter season – are also offered during the summer season. An overview:
Jerez
Sherry wine, tapas and flamenco… Numerous ingredients of the Andalusian culture and gastronomy have their roots in Jerez de la Frontera. With Jerez, Brussels Airlines adds one of the most attractive South-Spanish cities to its network. More and more tourists visit the city and its surroundings each year. Wine tasters will be delighted to visit the well-known Sherry bodegas and wine cellars of Tio Pepe, Domecq or William Hubert. Horse lovers will relish the famous Real Escuela Andaluza del Arte Ecuestre. Motor freaks can attend one of the many races at the F1-circuit located nearby.
Jerez is at the same time the perfect base for those who want to visit the coastal areas surrounding Cadiz and Puerto de Santa Maria or Pueblos Blancos in the mountains. Also the golf courses and luxury hotels of Novo Sancti Petro / Sciclana and Rota – which is very popular amongst Belgians - are just a stone's throw away from Jerez.
Jerez is Brussels Airlines' third destination in Andalusia. There are several flights a day to Malaga and Seville is served several times a week. Right across the border of Portugal Brussels Airlines already flies frequently to Faro. Flights to and from the different airports can be combined so as to make fly & drive holidays in the area possible as well.
The new route to Jerez de la Frontera starts in May and will last until the end of September. Flights are operated on Wednesdays and Sundays.
Crete
By adding Crete to the summer offer, Brussels Airlines adds the most popular Greek holiday destination. Wonderful sandy beaches and bays, overwhelming nature in the inland, impressive remnants of the Monoi civilization, luxurious holiday resorts but also authentic pensions, a hospitable Cretan population ánd a sun-drenched climate … the versatile island of Crete has all the ingredients for a perfect summer holiday.
As from the Easter break Brussels Airlines will operate Heraklion/Crete twice a week on Tuesdays and Saturdays. Next summer, the airline will fly almost daily to the Greek capital Athens. Flights to Crete can be combined with flights to Athens. Island hoppers can for example fly to Athens and return from Crete.
Belfast City
Until now there were no direct flights from Brussels Airport to Northern Ireland, so it often took travelers about five hours to get there. Next summer season Brussels Airlines changes that. Starting from April there will be five weekly flights to the centrally located Belfast City Airport (BHD). Belfast is the economic, industrial and political center of Northern Ireland. In shortlists of cities worth a visit, Belfast pops up more and more. The city is trendy with attractive shopping areas, charmingly old pubs, new stylish hotels and architectural attractions such as the City Hall and the Queen's University. The well-known 'Game of Thrones'-series was even shot in Belfast, and a tour along the locations is an absolute 'must-do'. The Titanic museum – a witness of the glorious maritime past of Belfast – is definitely also worth a visit. The absolute highlight of the overwhelming Northern Irish fauna and flora is the Causeway Coastal Route, which is known to be one of the five most beautiful and spectacular roads in the world.
As from the summer season Belfast City Airport (BHD) will be connected directly to Brussels Airport five times a week. Flight days are Monday, Wednesday, Thursday, Friday and Sunday. This new destination will be operated throughout the year.
More flight frequencies and more capacity
To offer even more possibilities, Brussels Airlines increases next summer the flight frequencies to many existing destinations. Four extra weekly flights are planned next summer to the Scottish Edinburgh. Brussels Airlines is also investing in her flight offer to Portugal with three supplementary frequencies to both Lisbon and Porto.
The timetable of the new flights is customized to the growing number of city-trippers. The popular region of the Costa Blanca will also be operated more often next summer: the number of flights to Alicante increases from three to four times a week.
Good news for those who want to visit Malaga and Venice since more flights will be planned on peak days. Finally, also the flight frequencies to some business destinations such as Manchester and Vilnius will be increased. Manchester will even be operated five evenings a week.
Brussels Airlines will also increase its number of seats to Gothenburg, Toulouse, Oslo, Marseille, London, Barcelona and Faro by replacing smaller airplanes by/with larger ones.