Brussels Airlines launches #Tousenfrance flights for the European Championships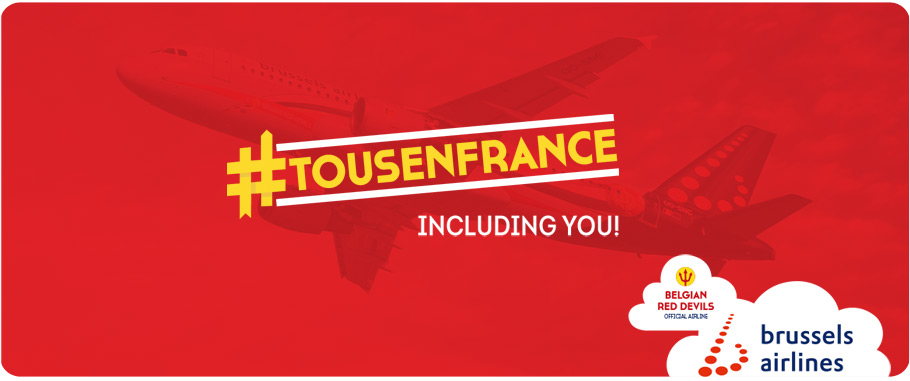 Brussels Airlines flies the Red Devils to France for their European Championship games and offers "TousenFrance" experience packages for the supporters.
Since 2012, Brussels Airlines is the official airline of the Belgian Red Devils. Last year the company flew the Belgian team to the World Cup in Brazil, and again in 2016 Vincent Kompany and co will fly Brussels Airlines to France for the European Championship.
Brussels Airlines also takes care of the twelfth man and offers special #Tousenfrance flights to the Red Devils games to follow the European Championship up close. A #Tousenfrance package is a unique 24-hour experience which starts when boarding the aircraft in Brussels Airport, where 180 fans take off together for an atmospheric flight to France. Upon arrival, a Red Devils experience bus will take them to the stadium or, for those who did not manage to get their hands on tickets to the game, to the Belgian fan zone. After the match the fans fly straight home, so no expensive overnight stay is needed. #Tousenfrance packages can be purchased here
Brussels Airlines flies to six of the ten host cities of the European Championship. In total, the company offers 86.853 seats for sale between June 10 and July 10 and expects to welcome many football enthusiasts who will travel on their own to France. To meet the high demand, the company schedules extra flights during the European Championships and will operate as much as 656 flights to Marseille, Nice, Toulouse, Paris, Lyon and Bordeaux.
In the run-up to the 2014 World Cup Brussels Airlines colored two of its aircraft in the Belgian colors, but now the airline goes a step further in order to put the Belgian football team even more in the spotlight. For Euro 2016 they work on a unique plane that will be painted entirely in Devil's colors. The design has been devised together with the players themselves. The aircraft will be unveiled to the public in March 2016.
"We are now in full preparation for the European championship at Brussels Airlines and we are proud that we're not only giving the Red Devils a fantastic airplane, but we can alsof offer Belgian fans a once-in-a-lifetime football experience. Everyone at Brussels Airlines is looking forward to this European Championship."

Lars Redeligx, Brussels Airlines Chief Commercial Officer