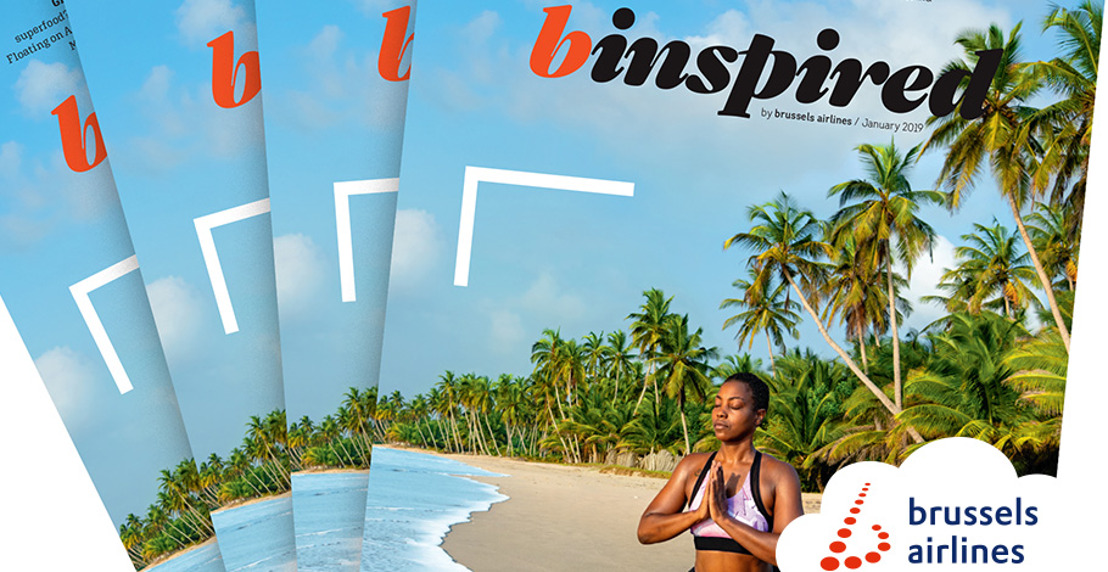 Brussels Airlines redesigns its inflight magazine b.inspired
Tuesday, January 8, 2019 — To inspire its guests even more in 2019, Brussels Airlines revamps its inflight magazine b.inspired. The modern and more elegant version of the magazine with its unique Belgian touch, contains even more stories and pictures of inspiring travel experiences.
b.inspired is Brussels Airlines' monthly inflight magazine, published by travel media company Ink and distributed on board of all the airline's flights as well as in its lounges at Brussels Airport. Since July 2015, Ink has published 43 issues. The reimagined magazine aims to inspire travellers by showing them a less traditional side of the destinations, with fresh stories and new travel trends. b.inspired contains many articles related to the airline's destinations, including information on the local culture, including society, food, fashion, and travel and business tips. In 2018 the magazine's designer won "Best Designer" award at the prestigious Eddie & Ozzie awards in New York.
A fresh look & feel for our guests
"I always start from the perspective of what is important for our guests, putting myself in their shoes. With the revamp of our inflight magazine, we have created a stronger balance between shorter, easier reads and longer in depth features from across our network, together with a modern design that is sleeker and more stylish. Our aim is to make our inflight magazine newsstand-worthy, deeply inspiring and one which our guests will enjoy reading and perhaps want to take home with them as a memory of their flight with us."

Tanguy Cartuyvels, VP Marketing Brussels Airlines
"We are thrilled to be unveiling the new b.inspired magazine. It's an intentionally, all-out inspirational travel publication filled with the very best experiences and stories, from Brussels Airlines' diverse network over three continents. The new magazine encapsulates both the unique positioning of Brussels Airlines and people's never-ending quest to explore new horizons. It's exciting that this already award-winning magazine is read by more and more people every year as Brussels Airlines' passenger numbers continue to grow."

Michael Keating, Joint CEO Ink
"We have revamped b.inspired to give it a more modern, lighter and fresher touch and to stay relevant to our guests today. The pages are filled with bigger and more fabulous photos from across our network, top travel experiences that guests can fly to with us, tips on where to sleep and eat, plus must-see events and exhibitions! We also meet the upcoming movers and shakers of the new business world, and take guests behind the scenes at Brussels Airlines with first-person interviews. Our new-look magazine will inspire guests to travel and experience even more of our world."

Monica Devi Lim, Publications Director b.inspired
Find the new b.inspired online.
About Ink:
Founded in 1994 in London, Ink is the world leader in travel media, connecting thousands of advertisers and brands to a highly receptive, and growing global audience of 802 million passengers. Ink creates and delivers inspiring, award-winning content for the world's biggest and greatest airlines, railways, travel companies and their passengers, by producing 31 magazines in 14 languages and video content for all digital platforms.
From 6 offices around the world, Ink's media connects brands, advertisers and marketers to a highly receptive, and real, global audience through inflight publications, video and online content and ambient and experiential advertising opportunities. It is accepted that airline passenger numbers will double in size by 2035 making Ink an ever-stronger leader in the media world today.
For more information regarding please visit www.ink-global.com