Brussels Airlines registers 13% passenger growth in October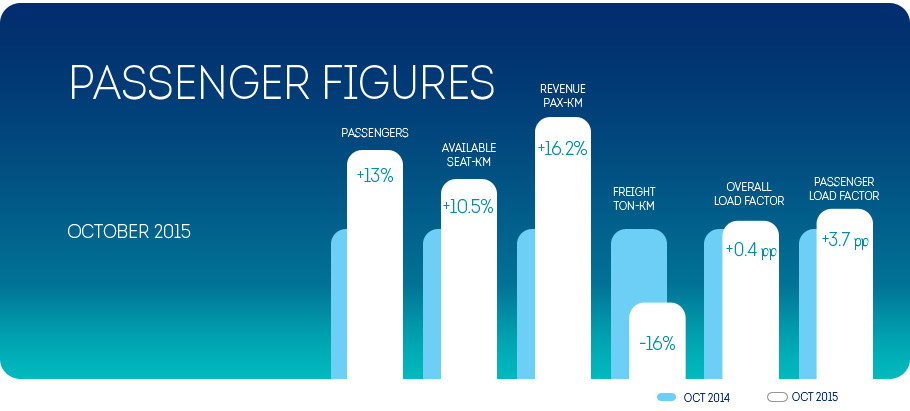 Brussels Airlines once again registered a strong passenger growth during the month of October. In comparison to October 2014, the number of passengers grew by 13%. The occupancy also increased by 3.7 percentage points. With these figures, Brussels Airlines is one of the fastest growing European airlines.
In October – the last month of the summer season in aviation – 706,227 passengers flew with Brussels Airlines, which are 81,441 more than last year. Especially remarkable was the growth on flights to Africa and the States; where the passenger numbers increased by 27.9 and 20.3% respectively. Also the European network grew significantly, with 11.3% more passengers.
The growth led to an improvement of the occupancy rate, which amounted to 76%.
One of the highlights of the previous month was the launch of a new route to Accra. The capital of Ghana is connected directly with Brussels Airport since the end of October, and this 4 times a week.
In addition to its scheduled flight activity, Brussels Airlines operated many flights for tour operators and charter flights. Passenger figures for these charter activities are not included in the monthly figures of this press release.
October

2015

October

2014

Month/month difference in %

Passengers

706,227

624,786

+ 13.0

Available seat-kilometres (in millions)

1,439.62

1,303.04

+ 10.5

Revenue Passenger-kilometres (in millions)

1,093.52

941.04

+ 16.2

Freight ton-kilometres (in millions)

13,033

15.514

- 16.0

Overall Loadfactor (Passengers & Freight)

63.6%

63.2%

+ 0.4 pct point

Passenger Load Factor (PLF)

76.0%

72.3%

+ 3.7 pct. point
Figures based on preliminary data currently available.