Brussels Airlines registers slight passenger growth in May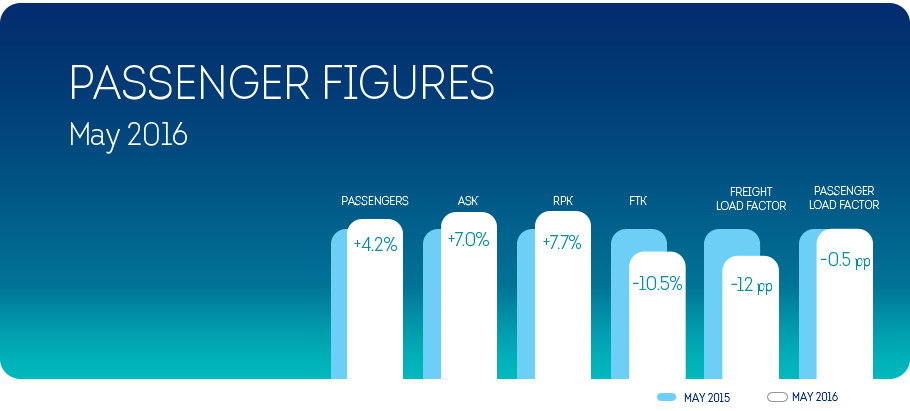 In the month of May, Brussels Airlines recorded a light passenger growth of 4.2% compared to May 2015. The Seat Load Factor increased slightly.
In May, 697,941 passengers flew with Brussels Airlines to a European, African or North American destination. That's 28,091 more than the same period last year (+4.2%). The European network generated a passenger growth of 3.4%. On its flights to and from Africa, the airline carried 3.8% more passengers. The number of customers that chose a trans-Atlantic flight grew by 25.4%. This remarkable growth is mainly due to the newly introduced service to Toronto, which creates more capacity, and logically, higher passenger numbers.
After the passenger decrease in March and April as a result of the attacks, Brussels
Airlines now registers a light customer growth. The demand for flights is not back at the level of before March 22, however, as the growth is mainly due to the capacity increase and the long weekends in May, which incited many Belgians to travel abroad. Moreover, mostly the number of connecting passengers grew (travelers who combine two flights via Brussels), but not the number of direct travelers to or from Belgium.
Despite the fact that Brussels Airport is again fully operational, the negative impact of the attacks is still noticeable, and, next to the business travel, the Belgian tourism still suffers. Therefore, Brussels Airlines supports initiatives like 'Sprout to be Brussels' to improve the image of our country and to stimulate Belgian tourism.
The freight load factor amounted to 63% in May. This is a decrasee of 12 pct points, which can be explained by the higher freight capacity due to the opening of the Toronto route. The freight volume on this new route is still in a start-up phase.
May

2016

May

2015

Year/year difference in %

Passengers

697,941

669,850

+ 4.2

Available seat-kilometres (in millions)

1,572.93

1,470.70

+ 7.0

Revenue Passenger-kilometres (in millions)

1,149.33

1,066.93

+ 7.7

Freight ton-kilometres (in millions)

16,259

18,180

- 10.5

Freight Load Factor

63%

75%

- 12 pct. points

Passenger Load Factor

73.1%

72.6%

+ 0,5 pct. points