Brussels Airlines welcomed 757,749 more passengers in 2014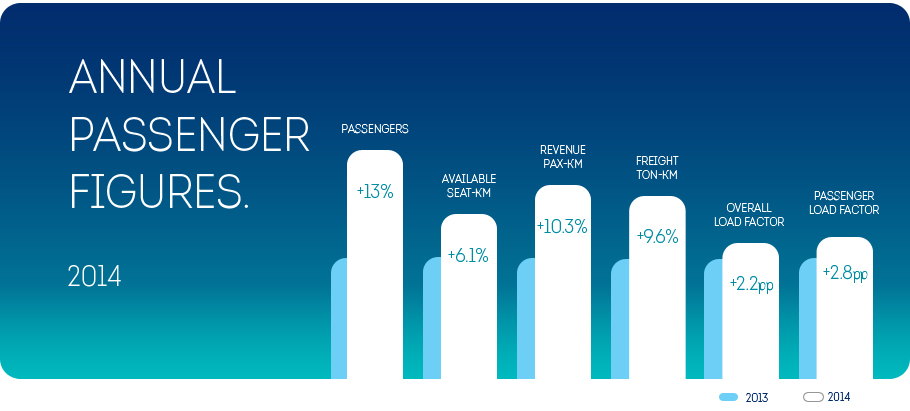 During the past year, 6,608,867 passengers flew with Brussels Airlines, 757,749 more than in 2013. This is the largest passenger growth in the airline's history. Thanks to the new commercial strategy, the seat load factor improved by 2.8 percentage points.
The new commercial strategy of Brussels Airlines has yielded very positive results in 2014. Thanks to the newly launched travel formulas, lower fares and the network expansion, 13 percent more passengers chose to fly with Brussels Airlines compared to 2013. That is a record for Brussels Airlines and makes it one of the airlines with the largest growth in Europe. Other European airlines registered a growth around 3%.
"The traveler today has more choice than ever from Brussels Airport and has clearly chosen for Brussels Airlines. Our new travel formulas and very competitive prices have been positively received by the market. Our strategy to offer attractive fares to the leisure market, on top of our focus on business travelers, has clearly worked."

-- Bernard Gustin, CEO Brussels Airlines
Out of the 6.6 million passengers, 5.6 million flew on a short- or mid haul flight operated by Brussels Airlines, while 222,781 passengers crossed the Atlantic and 751,805 flew between Brussels Airport and Africa.
The new commercial strategy also led to a significant improvement of the seat load factor, which increased by 2.8 percentage points and amounted to 72%.
The annual passenger results have been negatively impacted in December, due to the provincial and national strike days, which limited the growth during that month to 6.8%.
"In addition to our growing scheduled flight activity, we also operated more holiday flights for tour operators in 2014, in line with our strategy to have an even larger leisure offer in the Belgian market."

-- Lars Redeligx, Chief Commercial Officer Brussels Airlines
Passenger figures for these charter activities are not included in the figures of this press release.
Annual figures
| | | | |
| --- | --- | --- | --- |
| | 2014 | 2013 | Year/year difference in % |
| Passengers | 6,608,867 | 5,851,118 | + 13.0 |
| Available seat-kilometres (in millions) | 14,947.52 | 14,094.58 | + 6.1 |
| Revenue Passenger-kilometres (in millions) | 10,755.77 | 9,753.58 | + 10.3 |
| Freight ton-kilometres (in millions) | 191,075 | 174,272 | + 9.6 |
| Overall Loadfactor (Passengers & Freight) | 62.6% | 60.3% | + 2.2 pct point |
| Passenger Load Factor (PLF) | 72.0% | 69.2% | + 2.8 pct point |
Monthly figures December 2014:
December

2014

December

2013

Month/month difference in %

Passengers

461,577

432,068

+ 6.8

Available seat-kilometres (in millions)

1,073.93

1,162.19

- 7.6

Revenue Passenger-kilometres (in millions)

753.48

784.67

- 4.0

Freight ton-kilometres (in millions)

14,417

16,804

-14.2

Overall Loadfactor (Passengers & Freight)

61.4%

59.1%

+ 2.3 pct point

Passenger Load Factor (PLF)

70.2%

68.6%

+ 2.6 pct point