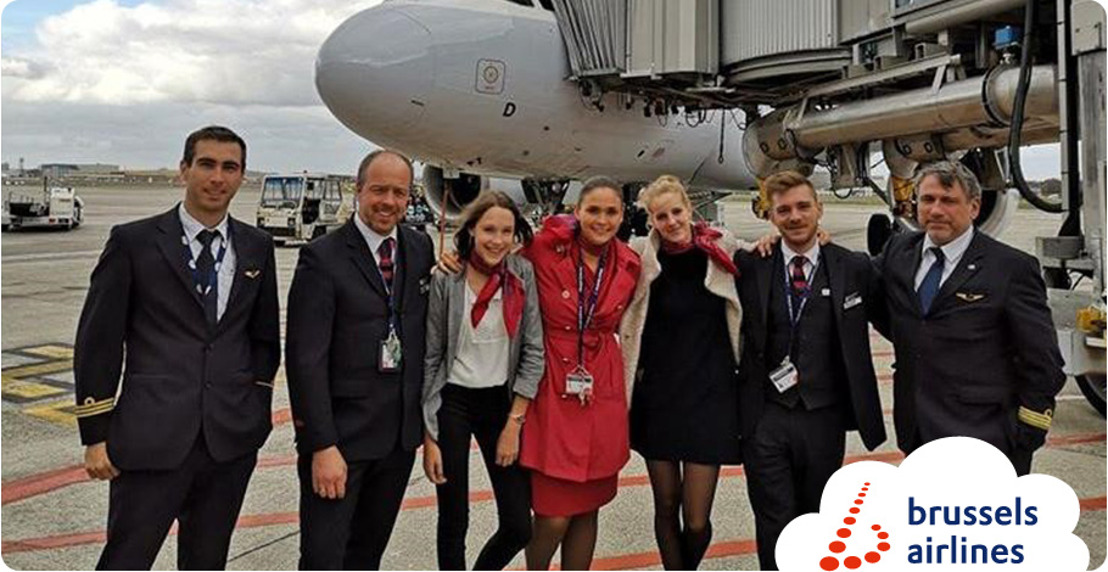 Brussels Airlines welcomes students for Youca Action Day
Monday, October 14, 2019 —

On 17 October, Brussels Airlines welcomes 16 students at work for this year's YOUCA Action Day. The airline participates the 7th consecutive time in the event. For the first time students will not only work on board, but also at the airport. The 16 YOUCA students are all children of Brussels Airlines employees, making it the ideal opportunity for the airline's staff to share a look behind the scenes with their own family.

Ten students from the 4th to the 7th grade will spend the day as a cabin crew member, performing a flight in Europe. Starting at the b.house in Zaventem, they will prepare the flight together with the Brussels Airlines cabin and cockpit crew, after which they will join the crew on board and care for Belgian and international guests using all their language skills. Six other students will work at the airport as a Passenger Service Agent, assisting at check-in and gates under the lead of an experienced Brussels Airlines colleague, welcoming the airline's guests and assuring a smooth boarding and departure. The students' salaries will go to charity projects of engaged youth worldwide.
"We are very happy to welcome 16 students during the YOUCA Action Day. It is the perfect opportunity to share the beauty of working in aviation with the next generation, the workforce of tomorrow. At the same time, we are helping our Belgian youth to engage themselves for sustainable entrepreneurship in Belgium and abroad. A big win for both parties."

Ilse Verhelst, Internal communication manager at Brussels Airlines
YOUCA, Youth for Change and Action, wants to stimulate youngsters to work together towards a sustainable and fair society. During the YOUCA Action Day, students between 14 and 19 years old go to work for one day and donate their salaries to projects of engaged youth worldwide. This year, their wages will go to a project by Trias, centralising youth and entrepreneurship in Guinee and to different projects in Belgium.
More information on: https://www.youca.be/